Climate Week New York – our key takeaways
From a fireside chat with Gold Standard to NACS and a CDR summit – we soared with excitement as we joined the dynamic hub of Climate Week New York! Read our key takeaways here!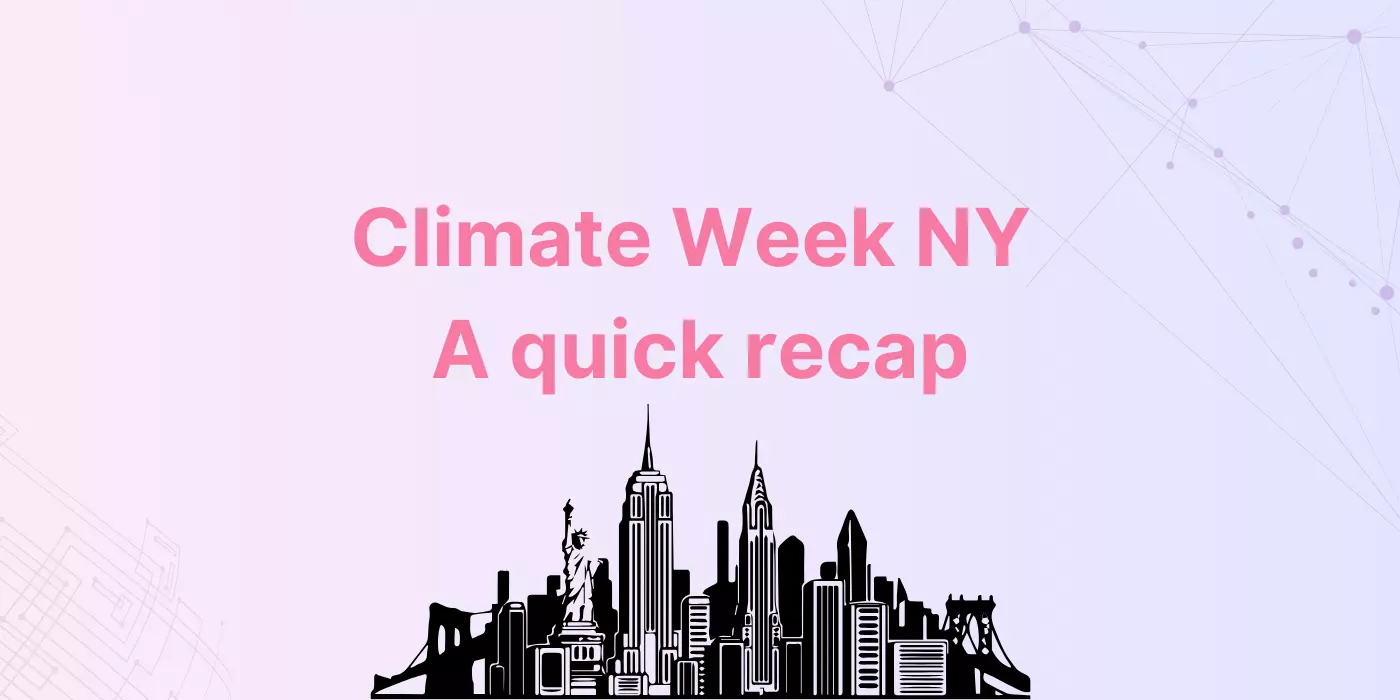 Toucans Raphaël Haupt (CEO), Dave Folk (Head of Carbon Markets), Anna Morrogh (COO), Nora Rothman (Head of Product), and Jack Policar soared with excitement as we joined the dynamic hub of Climate Week New York! We enjoyed being part of many great events, like the Puro CDR summit, NACS by IETA, and ReFi NYC. We also (re)connected with partners and friends from organizations across the climate tech space, including Gold Standard, Puro.Earth, and dClimate.
Our CEO and Co-founder Raphaël led a conversation on Gold Standard's roadmap for tokenization with their Chief Growth Officer Sarah Leugers. He also participated in a discussion on how to use technology for a better VCM. Scroll down for a summary of these conversations👇
Collaboration is everywhere
We witnessed how organizations of all sizes are realizing that we can't reach common climate goals on our own. We need a high level of collaboration and cooperation across sectors and between public and private organizations. This is already happening!
Momentum is building
From industry announcements and political commitments to an influx of new talent: The wheels are starting to turn faster to tackle the climate crisis. We have a serious amount of work to do, but optimism is in the air. Let's celebrate our wins and then work even harder!
Climate startups receive support
The support for climate innovation was palpable at discussion panels and in closed-door meetings. Corporates and multi-national non-profits are open to collaborating closely with the climate startup space, and are actively looking for ways to work with startups. Forming the right partnerships means that large enterprises can iterate faster and align on big goals.
Gold Standards roadmap for tokenization
Raph was joined by Gold Standard's Chief Growth Officer, Sarah Leugers, for an intimate fireside chat. During their conversation, he gained exclusive insights into Gold Standards tokenization plans and learned where they see the largest potential in applying this new technology.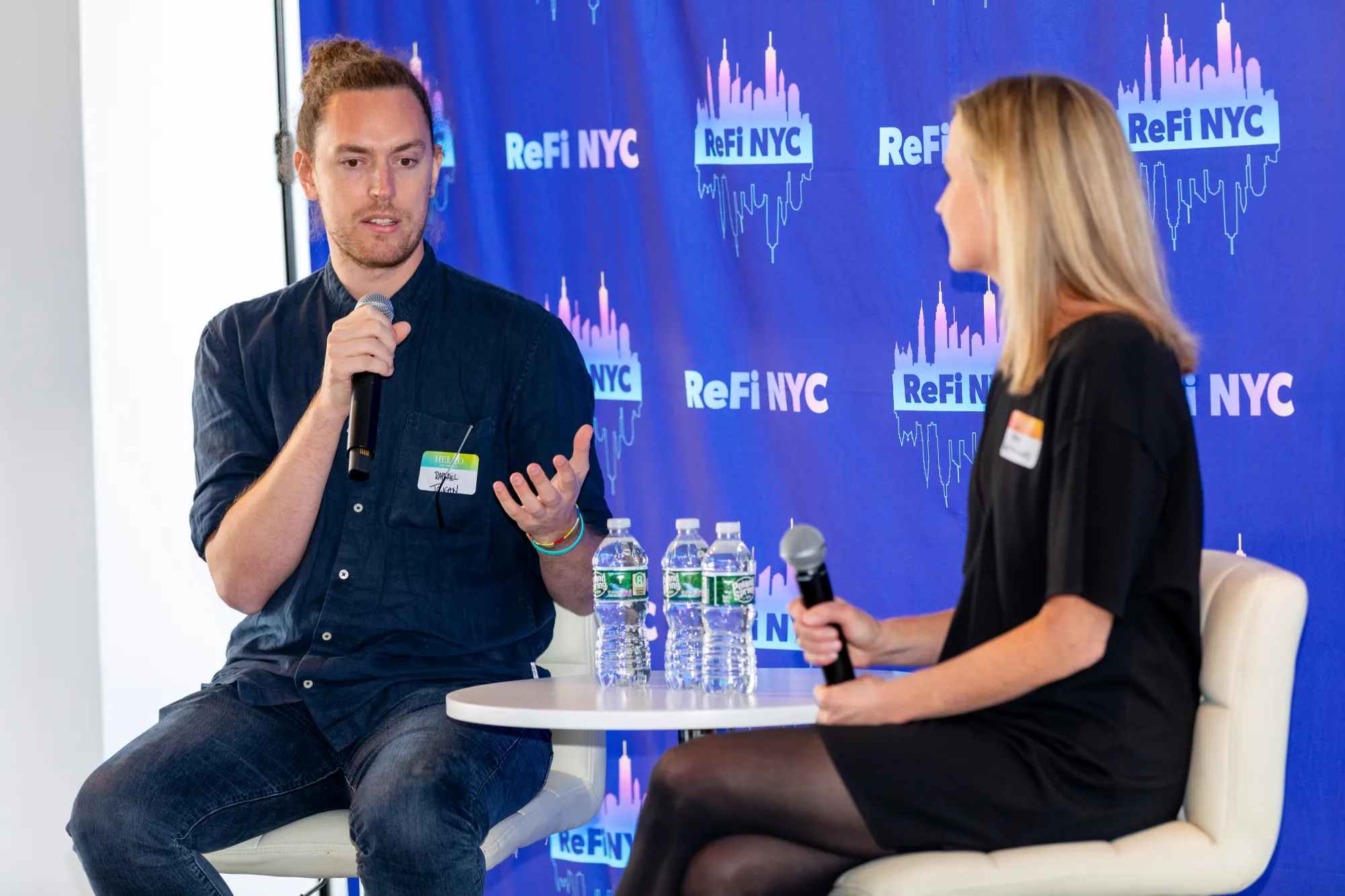 Key takeaways:
Gold Standard is very positive on leveraging blockchain technology and collaboration to scale a high-integrity VCM.
But there was a steep learning curve: In the beginning, the blockchain situation hit Gold Standard out of nowhere. They weren't prepared for the tokenization of tens of millions of carbon credits, and lacked an understanding of the technology or key projects involved in tokenizing carbon credits.
Now this has changed! After spending the last year learning more and gaining a deep understanding of the potential of blockchain technology, Gold Standard recognizes the scale of the opportunity. They are excited to work in a collaborative way with climate tech startups to build out relevant tools and infrastructure.
Sarah Leugers mentioned that Gold Standard is especially excited by blockchain's ability to make transaction data public and visible to everyone. She believes that one of the key pieces of information is a carbon credit's transaction data. Once this becomes publicly available (as is possible with the help of blockchain technology), price discovery can happen.
In her opinion, making high-integrity transaction information accessible is one of the most powerful applications of blockchain technology.
She believes that the climate tech industry needs new standards that maintain quality and integrity.
📹 Watch the recording of this conversation here:
🌿
ReFi NYC
convened industry leaders in the climate tech space to educate on novel solutions for creating high-integrity, scalable carbon markets. This event was the premier conference uniting climate tech professionals and VCM stakeholders during climate week.
Building a digital ecosystem for high-integrity carbon markets
Raph also shared thought leadership on a panel alongside Sylvera, Solid World, Thallo and Xpansiv, chaired by Sid Jha of dClimate during ReFi NYC.
"We need carbon markets to address climate change and allocate resources effectively."

Raphaël Haupt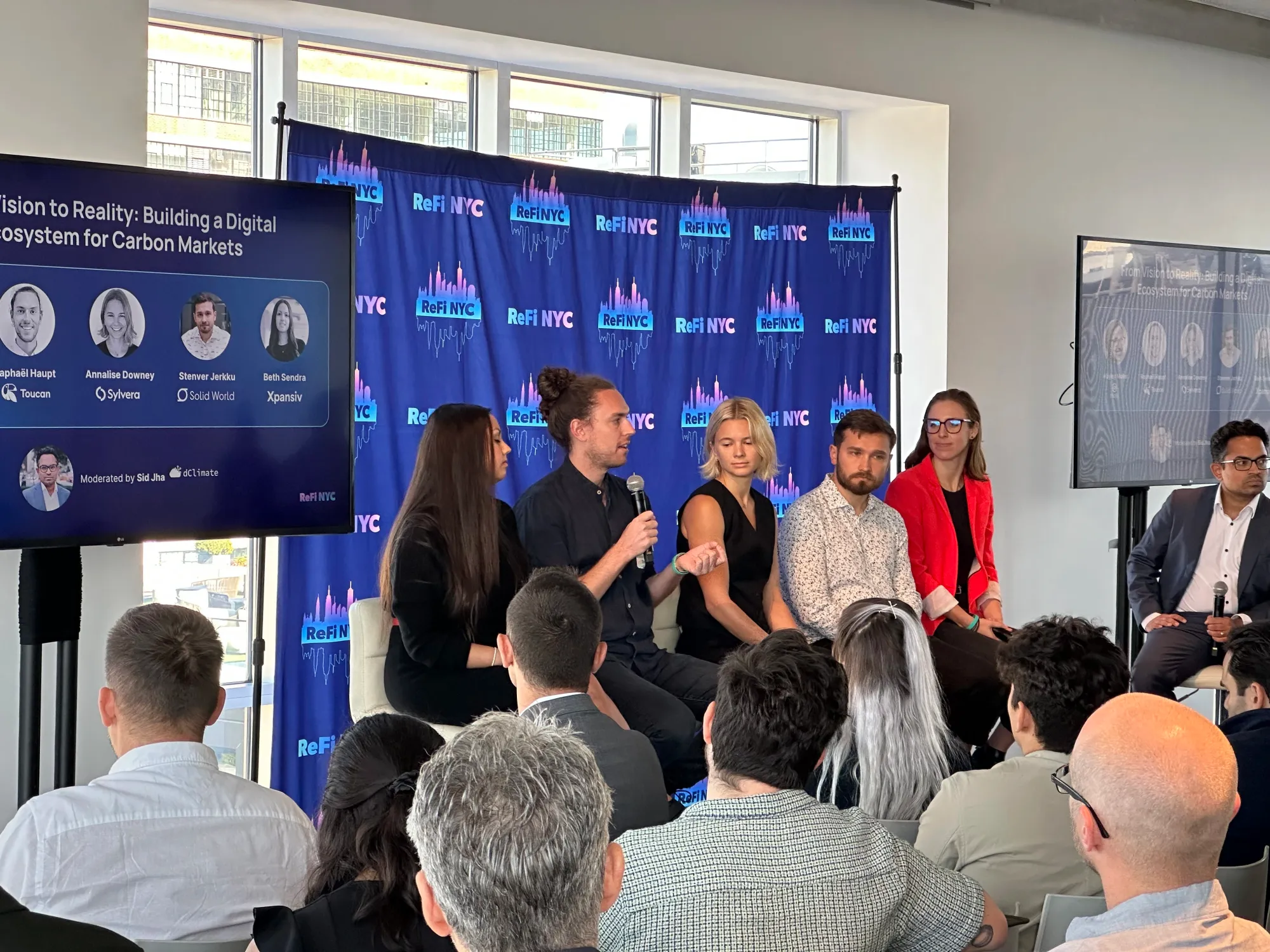 Key Takeaways:
Blockchain adds traceability from financing to the retirement of credits, but it should operate in the background to simplify processes. It can also help drive growth in the VCM.
Data is crucial for valuing digital assets like carbon credits.
We need a common approach to handle and compare data across climate projects, and the market should educate stakeholders on the benefits of blockchain for this reason.
Standardization, accessibility, and education also are key to attracting traditional finance.
It's important to build for the long term, as carbon markets will eventually go mainstream.
If you want to stay in the loop on what we're up to, follow Raphaël and Toucan on LinkedIn!
🌿
What is Toucan?
Toucan is building technology to unlock climate action at scale. Our digital infrastructure is helping to grow the voluntary carbon market (VCM) in a transparent and high-integrity way. It increases the flow of revenue to the most effective climate impact projects, by bringing established and nascent environmental assets on the blockchain.