Integrity helps scale a high-impact VCM. Here's why.
Rocky Mountain Institute & Climate Collective explore how technology can address project and data integrity in the VCM. We sum up key points.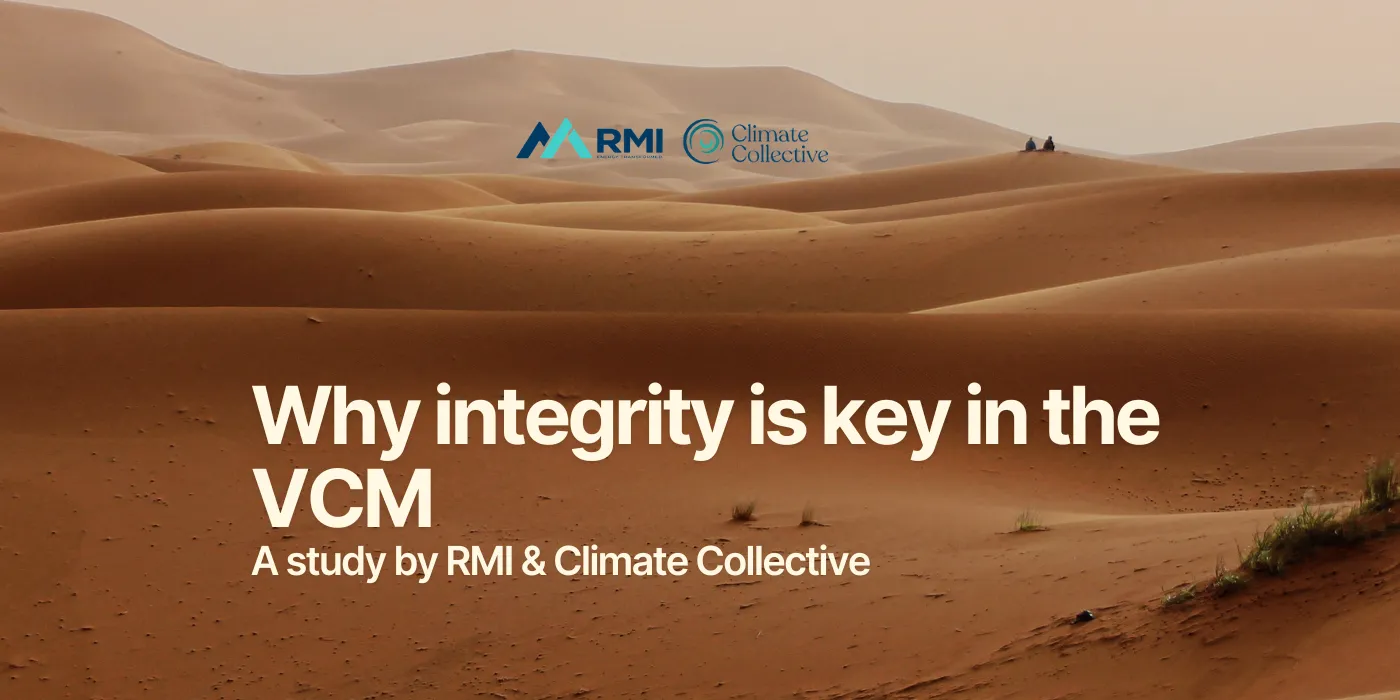 (How) can emerging digital technologies help build a high-integrity voluntary carbon market? The Rocky Mountain Institute and Climate Collective have released their VCM Landscape Guide addressing just this.
They shine the spotlight on critical issues with the integrity of carbon project data and the integrity of market activity – both areas where new technologies, such as blockchain, and digital monitoring, reporting, and verification (D-MRV) can make a huge difference!
Here we break down:
🔑  Key findings of the VCM landscape guide
🔍 Current integrity issues
🧭 How emerging technology can help address these issues
🔑  Key findings of the VCM landscape guide
The VCM is growing. But it needs to improve so it can have the required impact on climate goals. Currently, stakeholders continue to struggle with deciding on credit quality and fair pricing due to process and data issues.
These issues include:
Measurement uncertainty over climate impacts
Subjective interpretation of data
Data hidden behind paywalls
A lack of definitive integrity metrics for credits
Luckily, software-based tech solutions can help address these issues. They can, for example, improve alignment on credit quality, or send price signals to the market. If these technological solutions are applied correctly, they can help catapult the VCM to its full potential, so it can deliver climate solutions at scale.
🔍  Current integrity issues in the VCM
Two pillars of integrity determine the quality of any carbon credit claim in relation to its climate impact. These are process integrity and data integrity, and we explore them further below.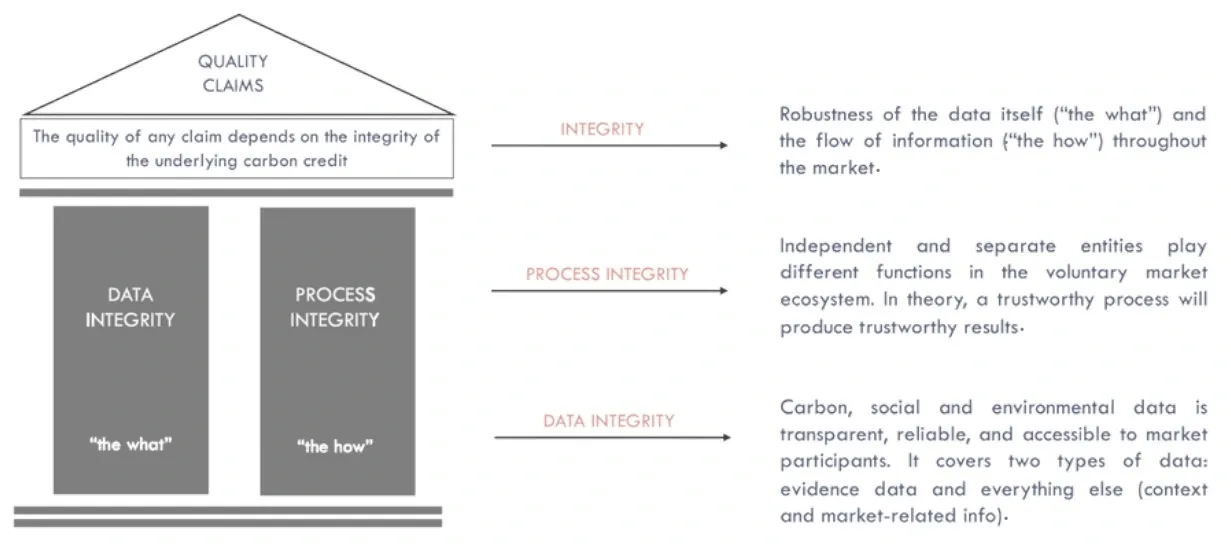 🌿
The VCM's current struggles with effectiveness and performance are a result of the flaws, strengths, and gaps of data between these two pillars.
What is process integrity and why does it matter?
Process integrity refers to the belief that a trustworthy and transparent credit certification process involves independent and separate entities that ensure reliable and impartial results in the Voluntary Carbon Market.
The following limitations negatively impact effective process integrity:
Complex local realities where unique projects face different implementation contexts
Centralized methodology creation, which means projects must be vetted by large, slow-moving institutions
Lack of accessible data due to things like paywalls
Inadequate data and quality literacy, which invites human error and inaccuracies
Lack of clear guidance for buyers, which makes purchasers hesitant and unsure of what constitutes good quality carbon
All of these issues mean one thing: The VCM ecosystem continues to struggle with inconsistencies, conflicts of interest, and a lack of transparency. And this, in turn, leads to a lack of trust, and to many questions around credit integrity.
What is data integrity and why does it matter?
Data integrity refers to accurate, reliable, transparent, and verifiable social and environmental data. It also includes the governance and flow of this information within a system.

Key challenges with data integrity hinder the accurate valuation and pricing of carbon credits. These challenges include:
Measurement uncertainty – much of the measuring is done locally, without utilizing the latest MRV technology
Subjectivity, as different people will interpret the same data differently
Opacity, with data recorded in dense PDFs or behind paywalls
Lack of definitive metrics, which means that data cannot be accurately equated to a specific quality benchmark
These challenges result in carbon credit prices that are largely disconnected from the credit's climate performance. And they usually don't reflect the cost of being brought to market by a project developer.
🌿
Both pillars – process integrity and data integrity – need to be addressed, so overarching quality claims are possible.
For example: If the underlying data of a credit is flawed, a flawless process will not compensate for the credit's fundamental data shortcomings.
And if a credit has near-perfect data, but the process to issue and sell it is opaque, unreliable, or clunky, the market will struggle to connect the quality credit with buyers that are willing to pay a premium for those quality attributes.
🧭 How emerging technology can help
Bringing greater integrity to the VCM is a task that can be tackled by new tech, like blockchain. Many innovative solutions are starting to play a pivotal role in collecting, storing, processing, and contextualizing data.
To date, digital tools and technologies largely focus on efficiency. They
address the speed, cost, and operational inefficiencies of purchasing carbon credits
are driving improvements around the accessibility, traceability, retirement, and exclusivity of carbon credits
Digital monitoring, reporting, and verification (D-MRV) technologies contribute to accurate, accessible, and credible data for carbon credits. They include remote sensing, machine learning, and artificial intelligence.
The diagram below details how technology can make the VCM better: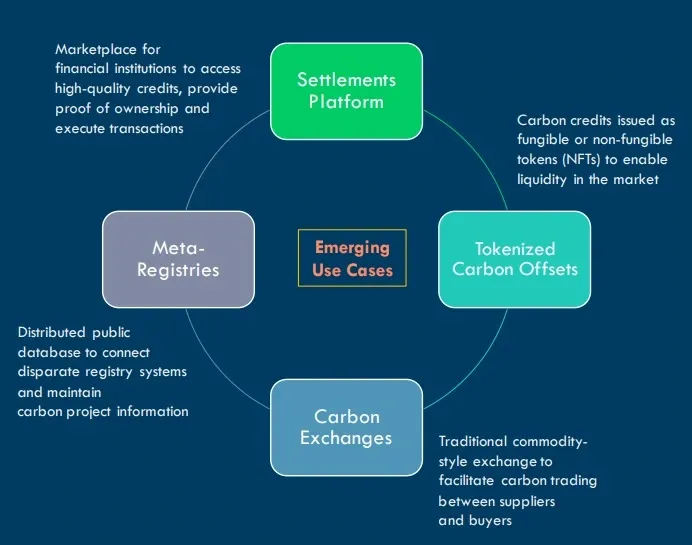 Together, blockchain and D-MRV technologies benefit the VCM ecosystem integrity by:
Making carbon credit supply transparent to buyers
Providing transparent, real-time project data for certification bodies
Implementing robust KYC compliance and identity verification via the use of smart contracts
Providing near-instantaneous settlements of payments for credit purchasers
Enhancing traceability of credit ownership and retirement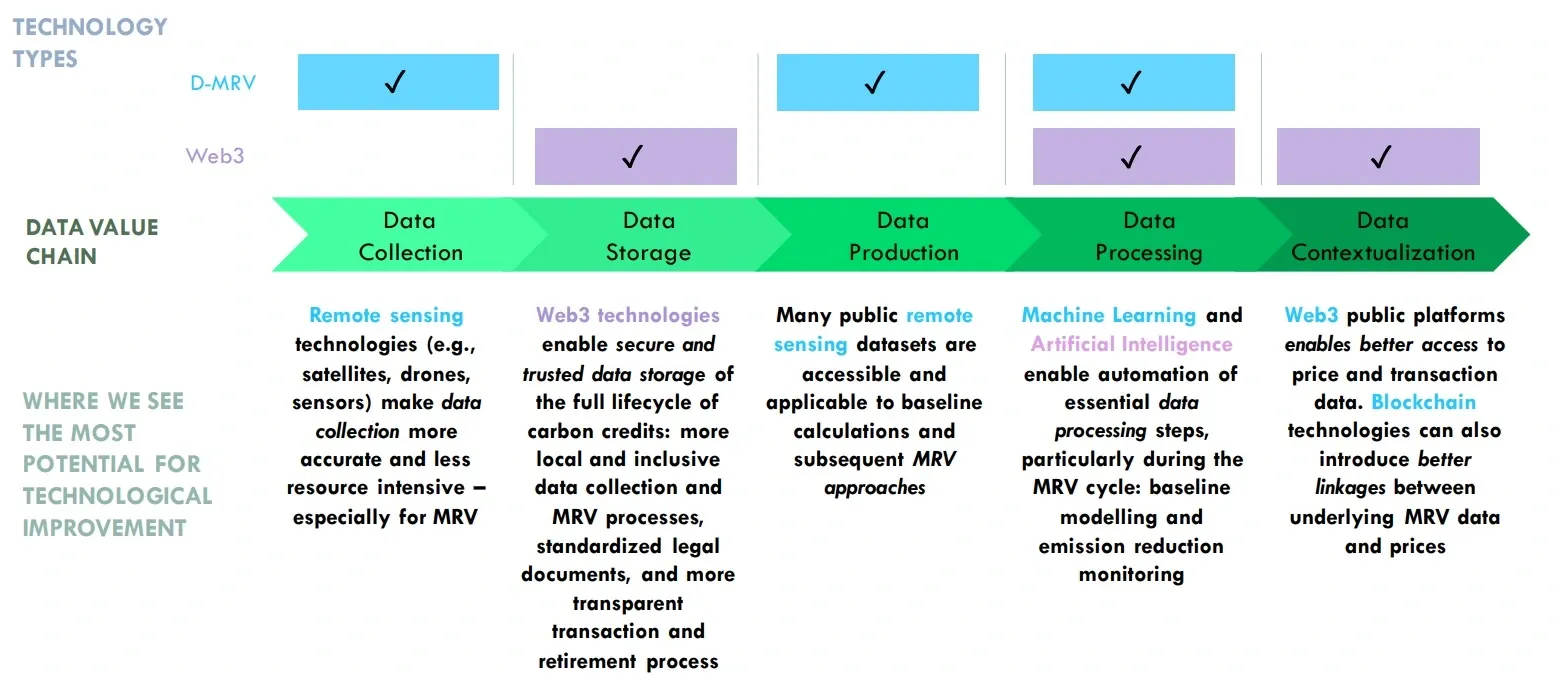 Conclusion
In conclusion, emerging digital technologies can enhance the integrity of the VCM. With innovations like blockchain and D-MRV, the VCM can become more transparent, efficient, and reliable. This ultimately unlocks its full potential to contribute to climate solutions on a global scale.
We thank the Rocky Mountain Institute and our friends at the Climate Collective for producing such comprehensive work. Read their excellent 166-page report!
🌿
What is Toucan?
Toucan is building technology to unlock climate action at scale. Our digital infrastructure is helping to grow the voluntary carbon market (VCM) in a transparent and high-integrity way. It increases the flow of revenue to the most effective climate impact projects, by bringing established and nascent environmental assets on the blockchain.