ETHBarcelona — How to execute an environmentally-friendly conference
ETHBarcelona was designed to be as sustainable and eco-friendly as possible. In addition to reducing emissions wherever possible, Toucan sponsored offsetting all unavoidable emissions.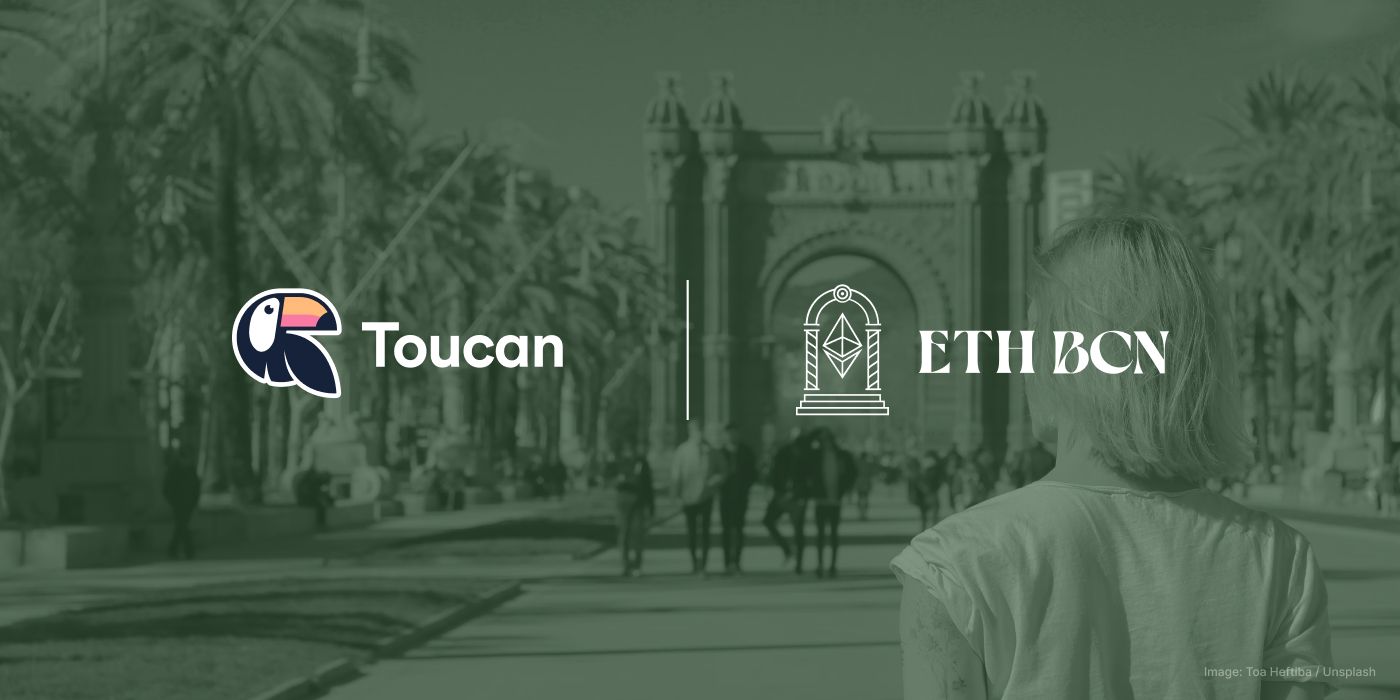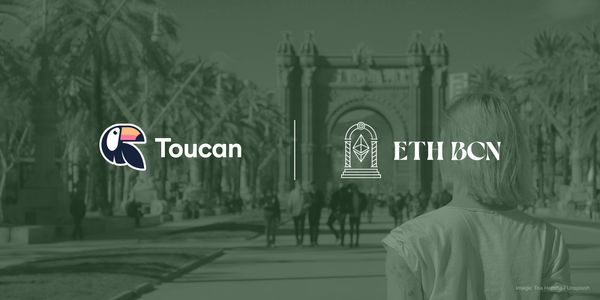 ETHBarcelona was an unique and beautifully designed experience for Web3 builders, thought leaders, artists and creators. It celebrated the values of decentralization, public goods and social impact. Organized by some of our amazing friends from DoinGud, the whole conference was designed to be as sustainable and eco-friendly as possible. Additionally, we — Toucan — are excited to compensate for all unavoidable emissions caused by the conference. We'll be sharing proof of our planet-positive action soon — publicly verifiable on-chain!
But how do you pull off a green Ethereum conference? We'll dive into the nitty-gritty, explore lessons learned, and give input to how your event can leave a positive impact on people's minds and the planet too!
The environmental impact of an event remains over time. This is why ETHBarcelona wants to leave the least possible environmental footprint and contribute to actions that benefit society through its new digital economy proposal.
Pam Pincheira, Sustainability, ETHBarcelona
Four aspects of sustainability
Throughout the planning, execution and clean-up following the conference, the team was conscious of four basic aspects of sustainability: environmental, economic, social, cultural.  Note that the first three elements are well-known pillars of corporate sustainability, while the fourth one — culture — is a valuable expansion to this framework. Let's look briefly at what every pillar stands for:
environmental (what impact does this have on the Earth)
economic (how do we fit sustainability into a business model)
social (how do employees and community feel about this)
cultural (how do we translate sustainability into being part of our culture)
The event organizers have agreed to making sustainability a priority for this conference, beginning at the early stages of planning. Areas that have been taken into consideration are: choice of venue, promotion, sponsors, suppliers, communication, production, hospitality, infrastructure, transportation, and attendees. Amazing Pam in the production team was specifically dedicated to overseeing the sustainability aspect of event planning and execution.
A special thanks also goes to Bye Bye Plastics who supported us with their no-plastic policies and communications initiatives.
🌿
Like this content?
Sign up here
to receive ReGenerate (and occasionally other content we think you'll find interesting) straight into your inbox!
Smart planning = cutting out unnecessary emissions
The most important element to hosting a green event? Making sure that the amount of emissions created is as low as possible. Avoiding emissions and waste whenever possible is crucial. It significantly lowers the environmental cost of an event. As a side effect, it also makes compensating for unavoidable emissions more cost-effective.
The commitment of all the agents involved in an event is key to achieving the objectives, creating a sustainable value chain where everyone participates: Client → Promoter  → CCIB  → Sponsors  → Suppliers  → Communication  → Production  → Hospitality  → Infrastructure  → Transportation  → Attendees.
Pam Pincheira, Sustainability, ETHBarcelona
To reduce emissions, ETHBarcelona tackled a variety of areas. To start with, they chose a values-aligned venue (CCIB) with a strict corporate CSR policy and a high commitment to sustainability. Other aspects included implementing good waste management, using sustainable decorative elements, and donating leftover materials.
Communication — a key pillar
All sustainability measures need to be communicated in a clear and concise way, so
participants know what sustainable behaviors they can implement to help make the event more sustainable
the event's social and cultural dimensions are served
ETH Barcelona solved this by writing up a Manifesto of four different slides that were projected before and after every conference. ETHBarcelona highlighted this communication through their Forest and Sky Stage, where in between every talk they projected a series of slides with key information about the sustainability plan of the event.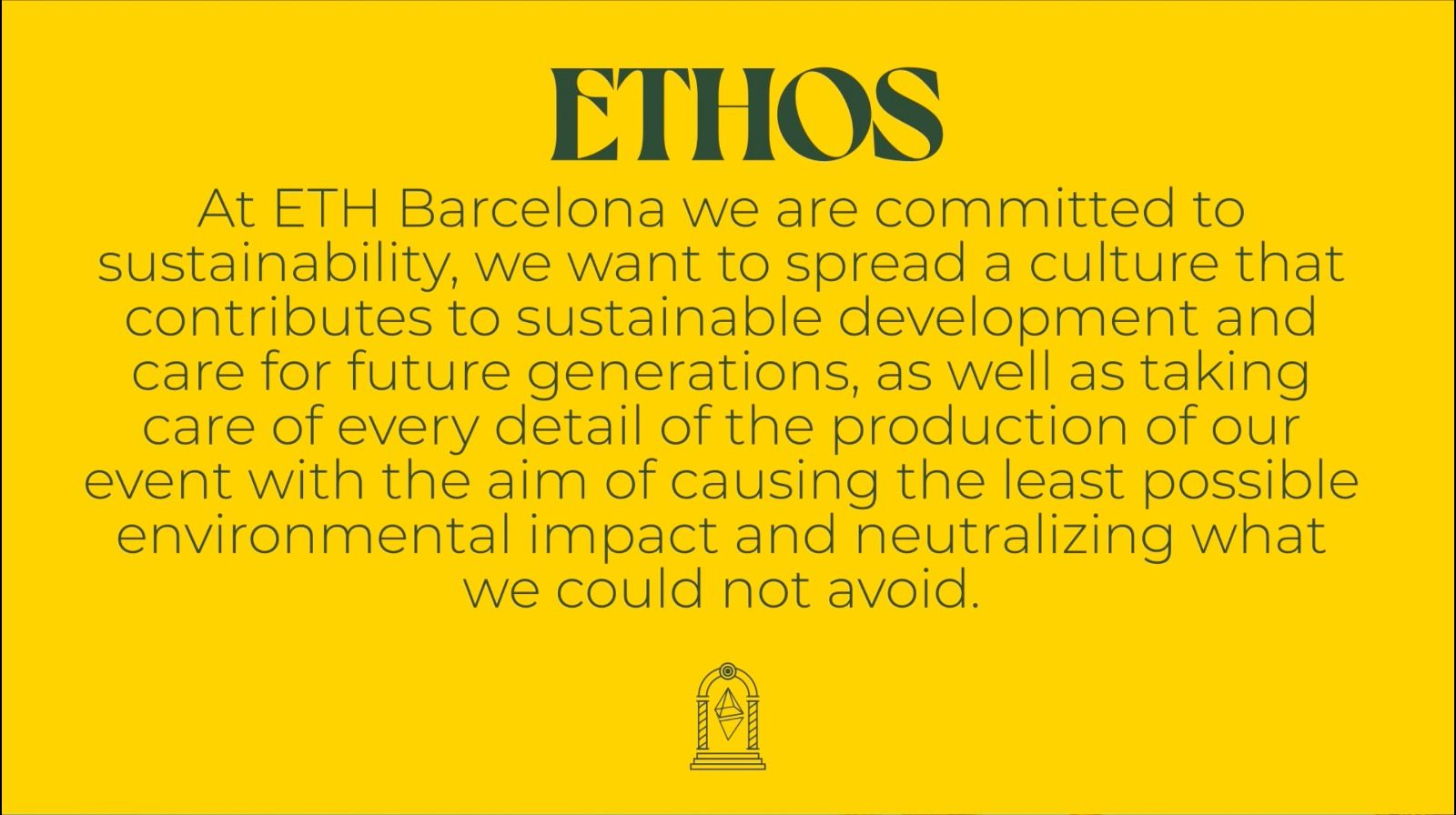 ETHBarcelona also heavily promoted sustainable transportation. As the venue was located strategically in an area that is very easy to reach by public transport, participants could rely on this to get to and from the conference. Lastly, a specific page on the website and dedicated socials posts were published to educate and inform all participants about how to help make ETHBarcelona more sustainable (ie. by bringing your own water bottle or coffee cup). This was a campaign led by Bye Bye Plastics Foundation, who partnered up with ETHBarcelona.
ETH Events are where our remote-first community meets. The social value of coming together in-person is high — but at the same time, we must adopt habits that keep the environmental cost low.
— Ela K, Community Lead, Toucan
What was the carbon footprint of ETHBarcelona?
To draw emissions numbers, ETHBarcelona organizers chose a granular approach, which included estimating the carbon footprint of as many individual parts as possible, and then adding up to a final sum.
A total of 298.80 tn of CO2 was emitted. All measurements are described in this ETHBarcelona Sustainability Report.
Here's what's included in the final number: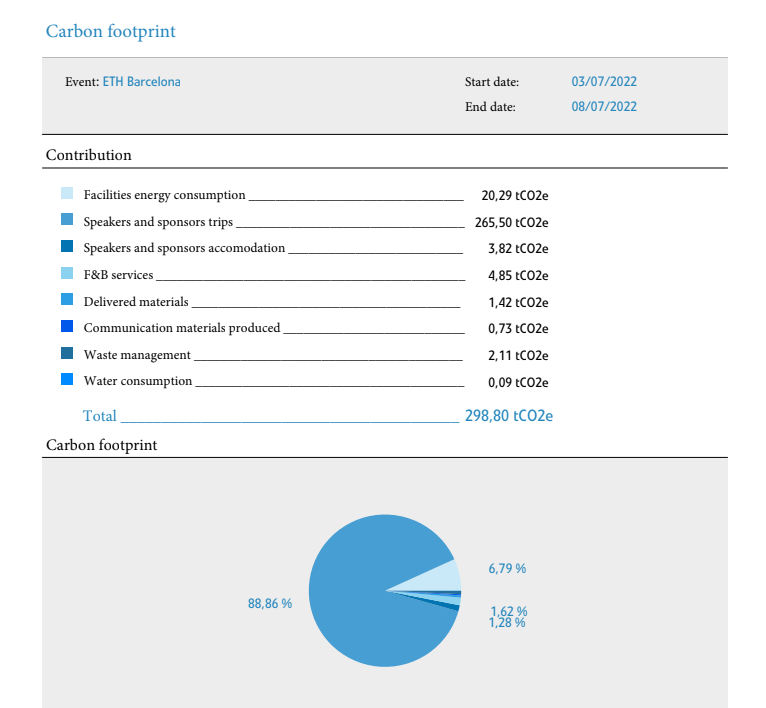 Numbers were sourced from
Speaker's travels & transportation to the venue
Food & Beverages for guests, speakers & staff
Promotional materials (sponsors had to fill in a survey on what materials they intend to bring)
Venue (energy, water, waste)
Read the full sustainability report.
Compensating for these emissions
Toucan is very excited to support ETHBarcelona's efforts in leaving a positive mark on the environment and people! We've offered to offset the entire carbon footprint with tokenized, nature-based carbon credits.
How does this work?
It's very simple: We purchase tokenized carbon reference tokens (NCT). Then we redeem these fungible tokens for the underlying carbon credits — each one stands for verifiable planet-positive impact. Finally, these credits are retired on the blockchain. As a reminder: Retiring carbon credits is when climate action happens!
Retiring credits on-chain has a few big benefits:
Publicly verifiable: Everyone can verify that the climate-positive action has happened
No double-counting of credits: Once a credit has been retired, it's out of circulation — for good.
Immediate: Retiring credits takes seconds, as opposed to months (like in the off-chain world)
Lessons learned
ETH Barcelona did leave all of us with beautiful memories and an environmental impact that was comparatively low. But it also showed that we need to put more effort into creating frameworks around planning and executing planet-positive conferences.
We see an opportunity for improvement for ETH's future events. We all should do what almost no one in this sector has done so far: Deliver solutions and tools to raise consciousness, educate and generate new habits for reducing, calculating and compensating for CO2 emissions generated by the mobility of the assistants.
Pam Pincheira, Sustainability, ETH Barcelona
Events need to factor CO2 calculation and a compensation strategy into their early planning phases. A successful strategy involves participants, sponsors, and local organizations, takes into account social habits and constraints as well as environmental factors. In the case of ETH Barcelona, for example, a hurdle was the lack of responses to the participant's survey. This made it very hard to calculate the mobility of guests — exactly the aspect that generates the most CO2 in an event.
Resources & action steps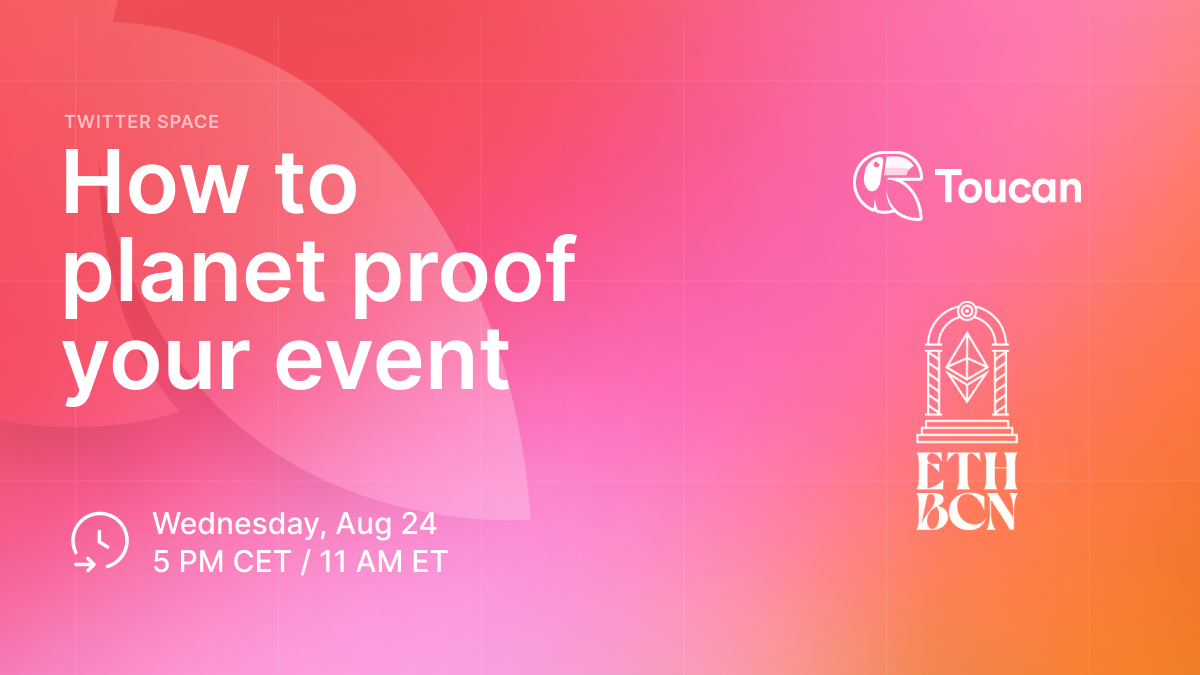 🌿
What is Toucan?
Toucan is building the technology to bring the world's supply of carbon credits onto energy-efficient blockchains and turn them into tokens that anyone can use. This paves the way for a more efficient and scalable global carbon market.