Web3 for tackling VCM pain points Pt. 1: Introduction 🕵️‍♀️

This is part 1 of a 4 part series exploring how web3 technology can address VCM pain points. You can find all posts on the Toucan blog and Medium.

The voluntary carbon market (VCM) aims to mitigate climate change by creating space for private actors to finance activities that reduce and remove carbon emissions from the atmosphere.
Despite recent growth, VCM coverage remains marginal, encompassing less than 1% of global greenhouse gas emissions. McKinsey predict that demand for credits could grow up to 15 times by 2030 and 100 times by 2050, requiring a rapid scale up in VCM activity. BloombergNEF predict that credit prices could move from around $3 in 2020 to $120 by 2050, creating huge incentives to meet this demand.
While there is the practical potential for up to 12 giga-tonnes of carbon credits to be developed by 2030, challenges identified by the Taskforce for Scaling VCMs are likely to limit this to between 1-5 giga-tonnes.
These challenges, explored in the Task Force's final report in January 2021, can be identified as 27 different key pain points currently afflicting the market.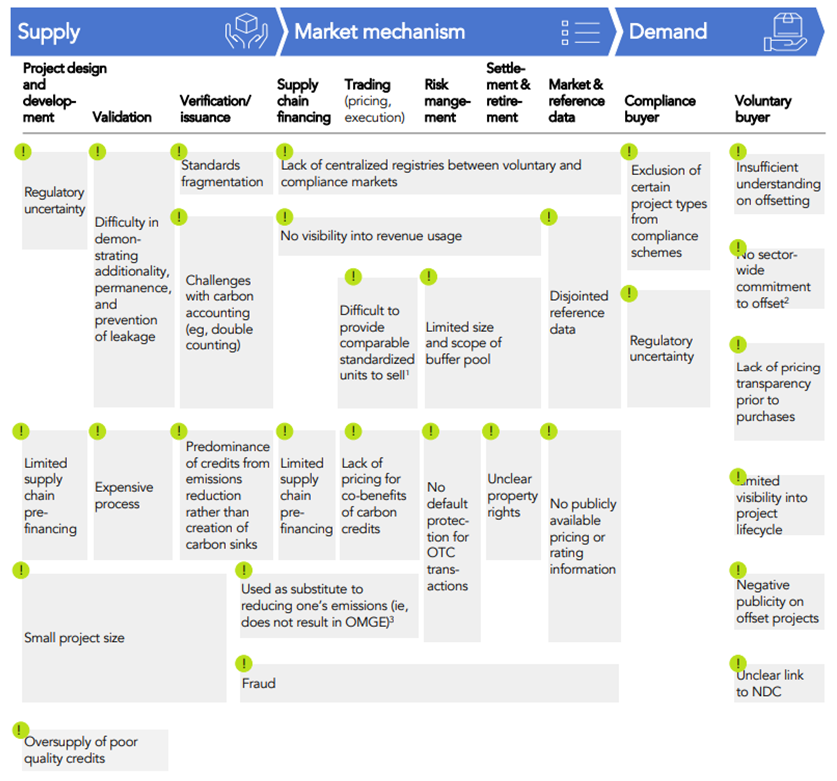 These can be roughly categorized into three overarching themes:
Lack of supply side financing 💵
Lack of market transparency 🔎
Lack of credit integrity 🧮
While these challenges may initially be exacerbated as the market grows, new actors entering the space can also provide the innovative solutions and technologies needed for VCMs to reach their full potential.

How can web3 help?
Web3 is an evolution of our current web2 based internet. Built on top of blockchains, web3 incorporates concepts of decentralization and token-based economics.
Blockchain technology has been identified by the World Bank as a key tool to support the development of evolving climate markets. Opportunities speak to the pain points identified above, tackling aspects of:
Market integrity
Environmental integrity
Transparency
Inclusiveness
Cost effectiveness
Scalability and extensibility
Indeed, the decision-making -framework below reflects the suitability of applying blockchain solutions specifically to Article 6 of the Paris Agreement.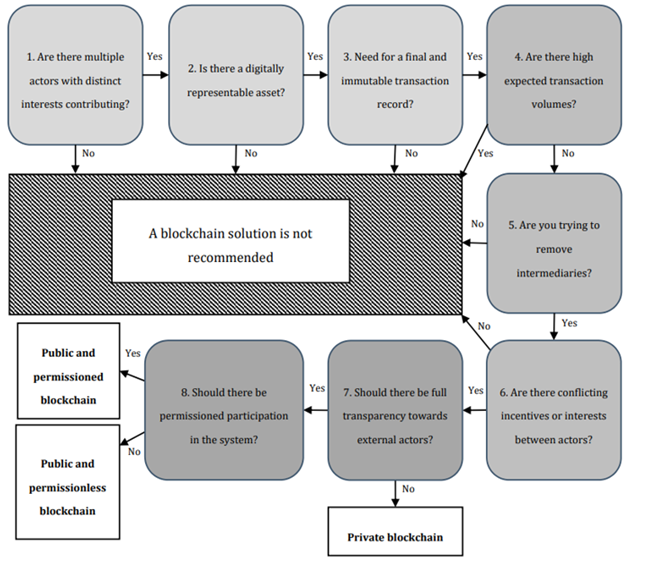 Recent months have seen growing interest from the web3 community in developing VCM solutions. The most high-profile project is that of KlimaDAO, which in October 2021 demonstrated the potential of web3 to impact traditional markets.
While the project has been effective in supporting the bridging over 20 million carbon credits from Verra's carbon registry onto the blockchain, questions have been raised over the quality of credits involved and the anonymous nature of the Founders.
The International Emissions Trading Association (IETA) recently formed a digital task group to explore and respond to growing interest from these new actors. Initial conclusions identified that while there is indeed potential for blockchain technology to address VCM challenges, activity needs to be carefully managed to ensure that risks to quality and security are avoided.

Cooperation for success
In order to achieve this balance, greater collaboration is needed across the VCM and web3 space. As identified by Sarah Leugers, Director of Strategy at Gold Standard, if web3 projects better involve VCM players then there is greater potential for these innovations to be calibrated. This sentiment is echoed by Ingo Puhl of South Pole, who discusses that collaboration is needed to identify what 'best-in-class' will look like.
These efforts will ensure that emerging web3 solutions are used as a key tool in solving persistent VCM problems, as opposed to becoming solutions seeking an application. We hope that this blog series will help further this conversation 🎇
Our next post will explore the pain point of lack of supply-side financing 💵
🌿
What is Toucan?
Toucan is building the technology to bring the world's supply of carbon credits onto energy-efficient blockchains and turn them into tokens that anyone can use. This paves the way for a more efficient and scalable global carbon market.