Toucan Grants Season 1 Roundup
Toucan Grants recipients, Season 1: Carbon project origination infrastructure & carbon marketplaces, NFT utility, GameFi, and a regenerative metaverse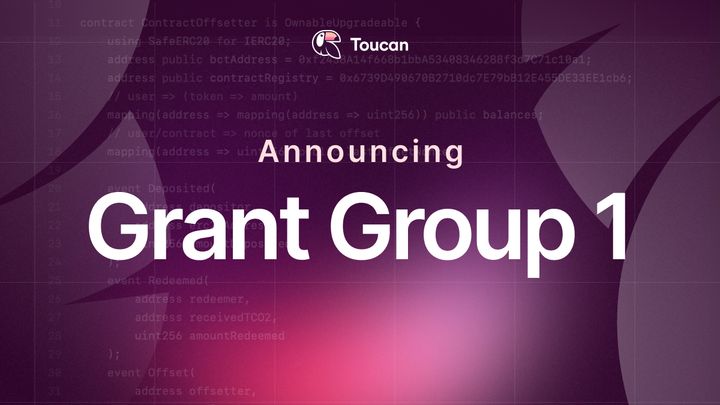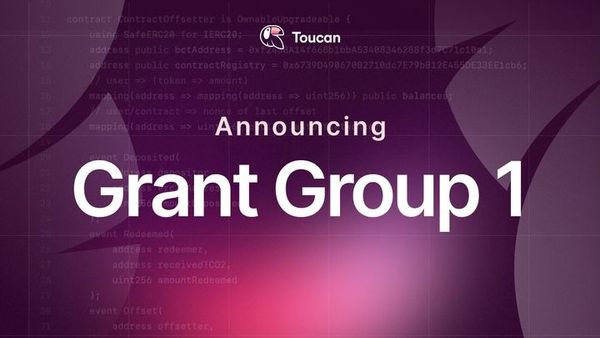 Building an economy that works for the planet as well as for people takes a lot! And by a lot, we mean coordination tools, community spirit, ingenuity, innovation, care, compassion, and, in some cases, infusion of capital.
Toucan has the unique opportunity to support founders building this regenerative economy with us. We're leveraging the position we're in by giving out grants to promising projects via our Toucan Builder Hub. These grants help protocols and founders achieve key initiatives on their journey. After opening our grants program back in April 2022 and refining criteria in June, we are excited to announce our Toucan Grant Fund Season 1 recipients.
When giving out grants, we focussed on a broad variety of verticals. We supported companies working on carbon project origination infrastructure, carbon marketplaces, automated offsetting, NFT utility, GameFi, and regenerative metaverse.
Here is an overview of our first 10 grant recipients, their projects, what they will be accomplishing with the grants, and how to follow and support them.
Spirals
Spirals empowers anyone holding crypto to maximize their climate impact without paying anything, simultaneously allows projects to get evergreen financing, and protocols to share their proof of impact. Projects listed on Spirals are expertly reviewed by a climate council, and community-funded through members staking.
"We believe the primary driver of climate change has been broken incentives in our economy and carbon markets. We work with a variety of ReFi projects to align incentives and drive better ecological outcomes"
Helena Merk, co-founder and CEO of Spirals
---
2. disCarbon
disCarbon creates carbon footprint tools that help the public reduce their impact on the planet, therefore minimizing contribution to climate change. Their tools also allow everyone to immediately offset their emissions directly on-chain, by using tokenized carbon credits. disCarbon's Flight Emission Offsetter, for example, is a decentralized application that demonstrates the environmental impact of air travel, and allows anyone to compensate their flight emissions within seconds.
Toucans grant will help disCarbon cover development costs and allow them to devote more time to building carbon retirement tools.
"We want to drive value to planet-positive projects and accelerate the adoption of on-chain carbon, by creating easy-to-use carbon retirement tools that are available as public goods"
Dan, co-founder and developer of disCarbon
💡
disCarbon's fully on-chain flight emission offsetter is available now—try it out and let them know what you think! Coming soon: POAPs for flight offsetters. Stay tuned for updates
here
.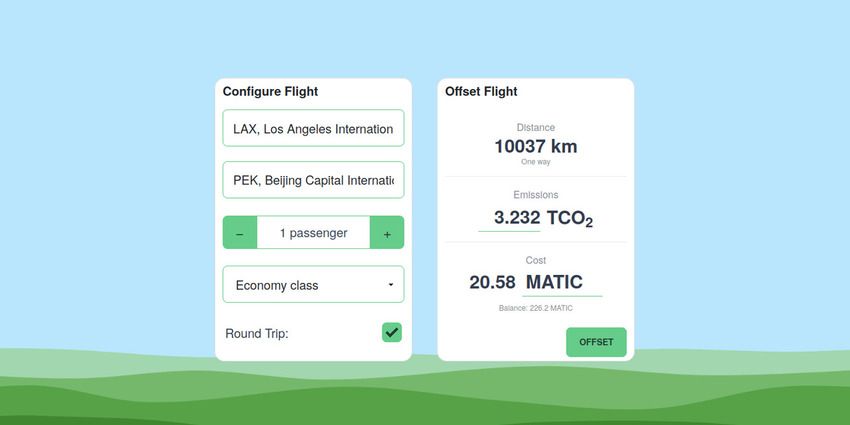 Follow disCarbon on Twitter, or check out their GitHub
---
"Waking up every day and working on climate solutions can be tough on the nerves. I have learned to look for things that bring as much positivity to the job as possible. Working through all of our grant applications and seeing the thought, effort and dedication that people are putting into creating solutions to the climate crises gave me so much hope for what we are working towards"
Jack — Toucan Builder Hub Lead
---
3. C02CULT
This project is a Nouns fork (one-a-day NFT auctions) that aims to offset the historic emissions of the ETH blockchain. 50% of auction proceeds offset carbon, and 50% are put into a shared community treasury, where holders can propose and vote on how to allocate the funds.
With the grant funds they received, they will be able to hire developers to create the custom fork contract, as well as generative art mechanics.
"This carbon-based 'entity' will continue growing  [exponentially] this way as long as KlimaDAO & Toucan exist. It could outlive everyone reading this right now, and continue to regenerate our planet a small amount at a time, even if completely abandoned and forgotten."
C02CULT on Twitter
💡
The CO2CULT launch is planned by the end of 2022 or early 2023.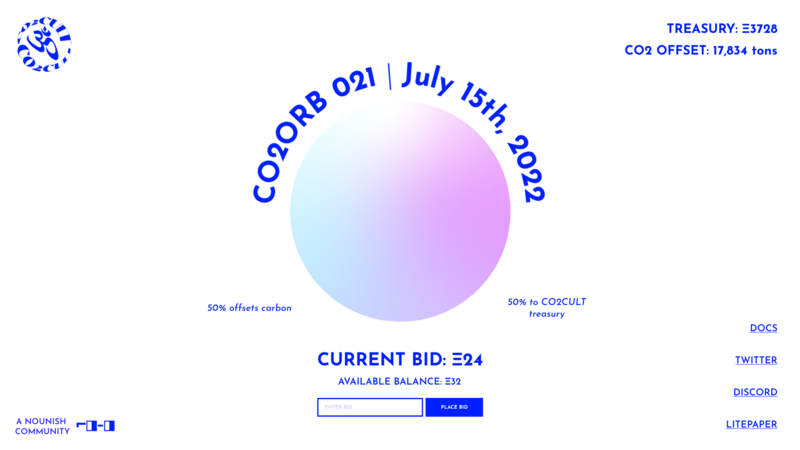 Find C02CULT on Twitter or join their Discord
---
4. Mangrove
Mangrove is building the operating system for carbon removal companies, enabling them to easily generate, track and sell their carbon removal inventory. Currently, many organizations removing carbon use spreadsheets to manage their inventory and orders. With Mangrove, these companies can better control their inventory, and move on-chain with ease.
Toucans grant will allow Mangrove to build out its software by covering founder expenses and software costs related to development of their v1.
We're building the tools that carbon removal companies need to effectively scale their operations. Our goal with Mangrove is to take the headache out of inventory management, so that scientists, engineers and entrepreneurs working on solving the climate crisis can operate as efficiently as possible
Brandon Vlaar, Mangrove founding team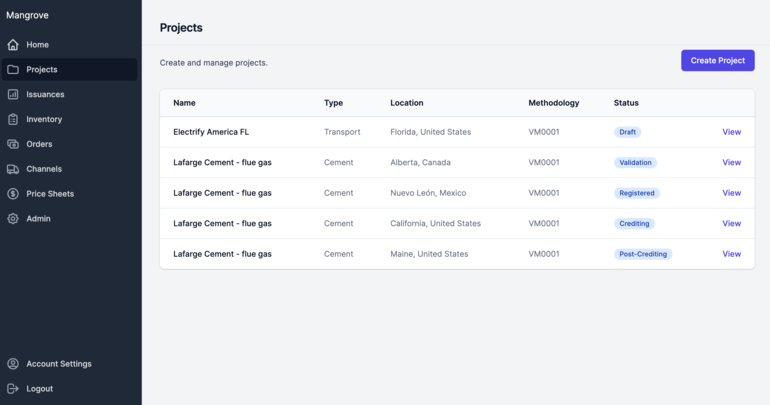 ---
The grant program has been a success so far. I love that we're able to see and help these really cool projects and teams that help push the ecosystem forward.
Alex Lazar, Developer Advocate, Toucan Protocol
---
5. Pozzle Planet
On the Pozzle Planet mobile app, users can share positive activities via video and, that way, impact the world around them. Every video posted is called a 'Pozzle' and each time a user posts a Pozzle, the app adds to a virtual world of Pozzle Planets. Simply find the activity you wish to join, and then 'Add Pozzle' to record a 10-second video of you doing the activity. Each time you add a Pozzle video, you'll earn POZ, the protocol's currency for a 'pozitive' world.
The grant has made it possible for Pozzle Planets to accelerate their development pace in delivering the alpha version of the mobile app and protocol, as they push towards a public launch.
"Imagine an impact machine. A machine that harnesses the infinite positive actions of individuals. As it grows, this machine absorbs impact token assets and converts them into rewards that incentivize more positive actions. And the wheel of POZITIVITY continues…"
Lady Pozzle, co-founder of Pozzle Planet
💡
Pozzle Planet mobile app alpha is LIVE!
Join
the waitlist to enter the Pozzleverse!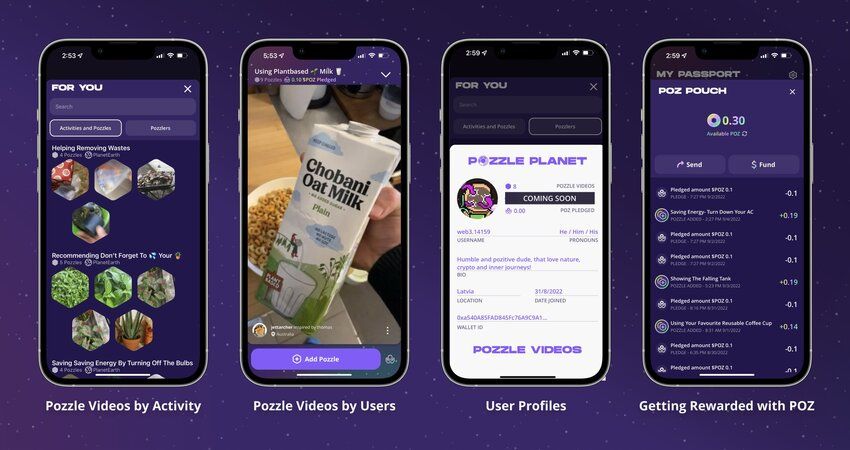 You can find Pozzle Planet on LinkedIn, Twitter and Discord
---
6. Mycorr
Mycorr works with companies which remove carbon dioxide from the atmosphere. It allows these companies to get paid for their future work — today. This sparks more innovation. Mycorr uses smart contracts to represent future removal work, and helps bring transparency, liquidity, and access to new sources of capital.
The grants funds will help the protocol work closely with Toucan to develop the right representation of these future credits.
"By making future carbon removal tradeable today, we will unlock resources for the development and scaling of permanent carbon removal technology, and not only speed up the timeline for it, but protect the atmosphere for future generations"
Mitko, co-founder of Mycorr
---
7. Climate Guardians
Climate Guardians is the first Play-2-Preserve mobile strategy game where players team up and fight against deforestation—with real world impact on climate change.
With the grant, the protocol will be able to keep on developing the minimum viable product (MVP), and build upon tokenomics and integration with Toucan.
"By onboarding 200,000 users on our mobile app until 2027, we forecast the ability to offset 5 million tonnes of CO2"
Climate Guardians
💡
Apply
here
for the pre-alpha game test program. There are only limited spots available!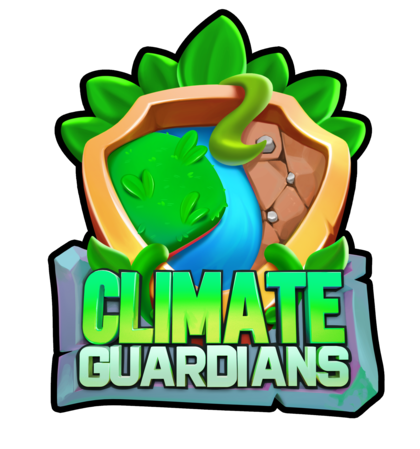 You can find Climate Guardians on Twitter, Discord and LinkedIn
---
8. KumoDAO
Kumo's goal is to create money backed by nature — money that will support our planet and regenerate it. Kumo mints KUSD stablecoins by taking natural assets, such as carbon credits, as collateral, turns climate action from an expense to an asset, and enhances projects financing.
The grant will support Kumo developers in creating smart contracts for their beta version.
"Kumo enables climate action and makes it as easily as sending 10$ over Paypal "
Robin, Co-Founder Kumo DAO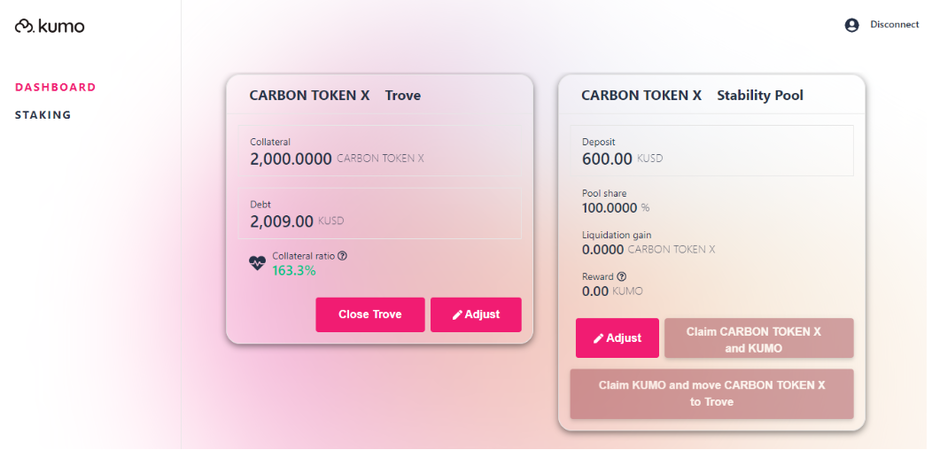 ---
9. Celostrials
Celostrials is pioneering the first carbonized NFTs on Celo. It will enable existing and new NFT collections to carbonize, and collect climate activity rewards.
The Toucan grant will help fund the development costs for creating the first carbonized collection, as well as kickstart the "carbonizer" for other collections to utilize.
"We hope to reduce the friction for web3 communities to interact with the ever-progressing on-chain carbon market in order to promote carbon consciousness"
Bridger Zoske, Celostrials

---
10. Atlantis World
An exploratory web3 game world that transforms the general public into superusers, one fun and rewarding quest at a time! Atlantis World is also a web3 native video/voice social events platform, built for DAOs and pioneering communities.
Atlantis World is a fully independent project that hasn't taken a single dollar from any private investor, and the grant will support them in offsetting the costs of building a custom social space for the Toucan community, as well as enable users to offset and retire carbon in-game!
We're really grateful for the support of Toucan and excited to ship the integration asap!
CJ, Atlantis World

Find Atlantis World on Twitter, and join them on Discord
---
Enjoyed this piece so much that you want to join the Toucan flock? Here's where you find us✨:
Follow us on Twitter or LinkedIn, join our Discord or browse our Blog
🌿
What is Toucan?
Toucan is building the technology to bring the world's supply of carbon credits onto energy-efficient blockchains and turn them into tokens that anyone can use. This paves the way for a more efficient and scalable global carbon market.