Moving forward: a look at Verra's public consultation summary
Verra concluded a consultation on the tokenization of carbon credits with formulated opinions and questions. Key points here!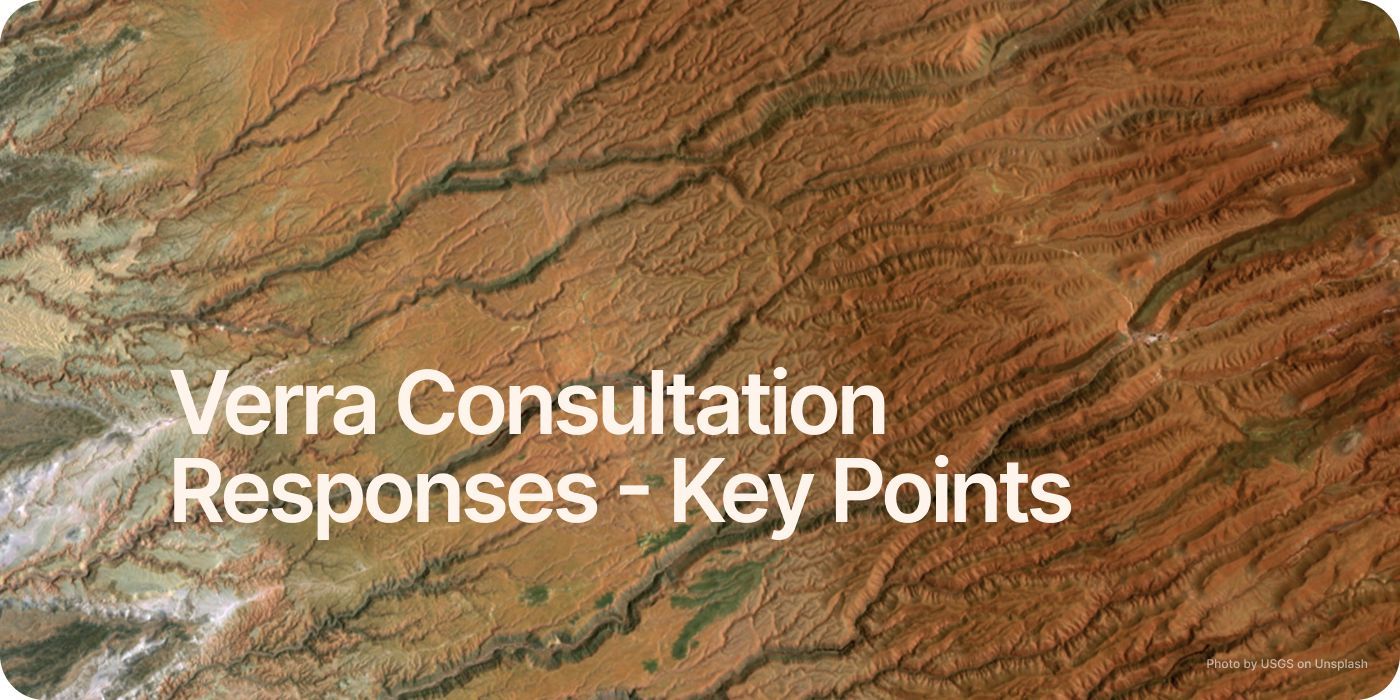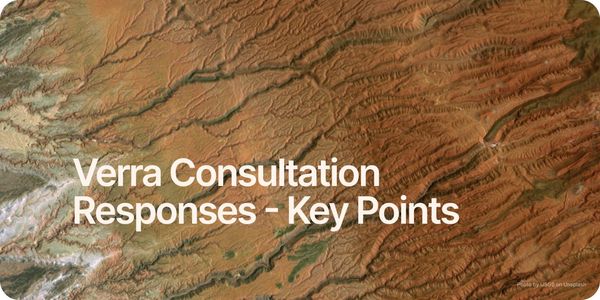 In May 2022, carbon standard Verra requested a halt to the tokenization of retired carbon credits and launched a public consultation to identify the right approach to scaling the voluntary carbon market (VCM) with the use of blockchain technology. Over 70 organizations and parties sent their public responses and recommendations to Verra.
See our response here:
Yesterday, Jan 18 2023, Verra published a 170-page document outlining the results of this consultation, with formulated opinions and questions that remain open. In this post, we review key points in Verra's response and share our take on the best way forward for the digital carbon market.
We're excited by this — it provides confirmation that Verra sees the value of tokenization, and views blockchain as a credible tool to help improve both the integrity and scalability of the VCM.  We appreciate the amount of thought that has gone into this consultation. Verra has shown real openness to innovation and an appetite to learn from this community of climate innovators, while also being grounded in discussing risks and tradeoffs.
Background knowledge: What was Verra's public consultation on crypto instruments and tokens?
In early August 2022, Verra announced their plans to launch a public consultation into their approach to the use of crypto instruments and tokens. Verra stated that they recognize both the potential opportunities and risks posed by web3 instruments, and were looking for input on the following points:
What enabling measures may be implemented to responsibly associate Verra instruments with crypto instruments or tokens?
What know-your-customer (KYC) checks should be conducted on issuers and/or holders of crypto instruments or tokens?
How should the Verra Registry Terms of Use be amended?
What fees, if any, Verra should charge in relation to crypto instruments and tokens?
The Next Steps
Our first reaction to Verra's summary: we all need to build on its momentum. We encourage Verra to take steps to authorize the tokenization of VCUs on public blockchains as soon as feasible. Tokenization and on-chain carbon registry technology is proven to be secure, and the market has shown a strong desire for this area of innovation — the sooner Verra can provide clarity, the better we can benefit from the recent interest in digital carbon markets.
We also want to emphasize the value we see in ensuring that public blockchains are at the forefront of any authorized tokenization framework. Public blockchains provide the strongest integrity and transparency guarantees, and are the most open for innovation.
Now, let's look at 6 points that are presented with a summary of the comments Verra received from organizations and individuals 👇
1. Safety and compliance
In the consultation, Verra rightly put a lot of emphasis on compliance and making sure digital carbon markets are not used for illicit activity. We strongly align with this view. Tokenization infrastructure (such as carbon bridges) should be subject to strict compliance checks and audits, so Verra can ensure that they protect against cyberattacks and criminal activity.
2. KYC measures
Compliance with Know-Your-Customer (KYC) regulations got a lot of attention in the consultation. Many respondents of the consultation think Verra's existing KYC requirements are sufficient and should apply to similar actions on a tokenized carbon registry. As we've outlined in KYC in Web3 carbon markets, in general we agree with this position.
There was close to unanimous consent that new issuance and detokenization (i.e. bridging) should require KYC. It is not clear yet if buyers of carbon tokens ("intermediate holders") will need to undergo KYC checks as well. There is a balance to strike here. Policies should absolutely comply with all laws and regulations, and guard on-chain markets against illicit activity, and protect consumers. However, overly restrictive policies risk severely undermining the potential value and utility of tokenized VCUs. We want to emphasize the importance of interoperability — cutting off tokenized carbon credits from the range of useful financial applications being built with smart contracts would be a missed opportunity to accelerate the development of carbon markets. For example, there are several well-established exchange marketplaces including order-book solutions and automated market makers that are interoperable with Toucan's infrastructure, ready to serve the market.
3. Double Issuance and Double Counting
Tokenization involves the transfer of a carbon credit from one registry to another. This creates a risk of double issuance. It's not clear yet how on- and off-chain registries will be connected, but it is clear that any system linking the Verra Registry and blockchain-based registries should be automated, so it can minimize human error and scale easily. When designed properly, these two-way data flows will provide safeguards against the double issuance and double use of carbon credits.
4. Reactivation of carbon credits
"Reactivation" refers to the process of transferring a carbon credit back onto the Verra registry from a blockchain-based registry — i.e. "unbridging" or "detokenization". Based on market feedback, we believe strongly that a bi-directional bridge is needed to support a healthy digital carbon market. While securely reactivating carbon tokens does present some technical challenges, our research shows that it is possible to support cross-registry transfers. We strongly support this direction, for the reasons outlined by Verra.
5. Fractionalization of carbon credits
There were opposing arguments about fractionalized carbon credits, and possibly some misunderstandings.
We ultimately believe that the fractionalization of carbon credits makes purchasing, selling and retiring them more accessible. The retail and transportation industries also have a growing need for sub-tonne carbon credits, for example, to offset exactly the right amount of carbon for the production of a single t-shirt or flight, but at this stage, it seems more like a technical detail than a large-scale issue to be addressed.
6. Energy footprint of tokenization
Blockchains have a reputation for being very energy intensive. While this is true in some cases, many blockchain networks are now using a much more energy efficient process to manage their digital ledger. On these blockchains, transactions consume as little energy as a Google search or a credit card transaction.
Several respondents commented that tokenization platforms should use a Proof-of-Stake blockchain, which has a lower energy consumption than proof of work blockchain. This is in line with Toucan's position, along with a trend towards sustainability in the Web3 industry.
Building trust
The voluntary carbon market has a key role to play in how we address the climate crisis — Verra's work is instrumental in closing the multi-trillion dollar climate finance funding gap. We are so encouraged to find such passionate, impact-driven people dedicating their careers to preserving the beauty of the Earth for future generations. We are here because we believe that blockchains can create more trust in carbon markets, and help them scale to meet their potential.
We're thrilled to see Verra making progress towards authorizing the tokenization of VCUs. We look forward to the next steps, which includes clarifying both technical and policy details. We are excited forward to participating in the next phase of this process, and are available to support Verra and other carbon standards as they design a tokenization framework.
🌿
Like this content?
Sign up here
to receive ReGenerate (and occasionally other content we think you'll find interesting) straight into your inbox!
What is Toucan?
Toucan is building the technology to bring the world's supply of carbon credits onto energy-efficient blockchains and turn them into tokens that anyone can use. This paves the way for a more efficient and scalable global carbon market.