deCarbonized #11: Carbon credits and energy access; IETA identify innovation opportunities
PURA reveals crypto carbon credit vision for hemp growers; Aker Carbon Capture and Microsoft to scale up CCUS value-chain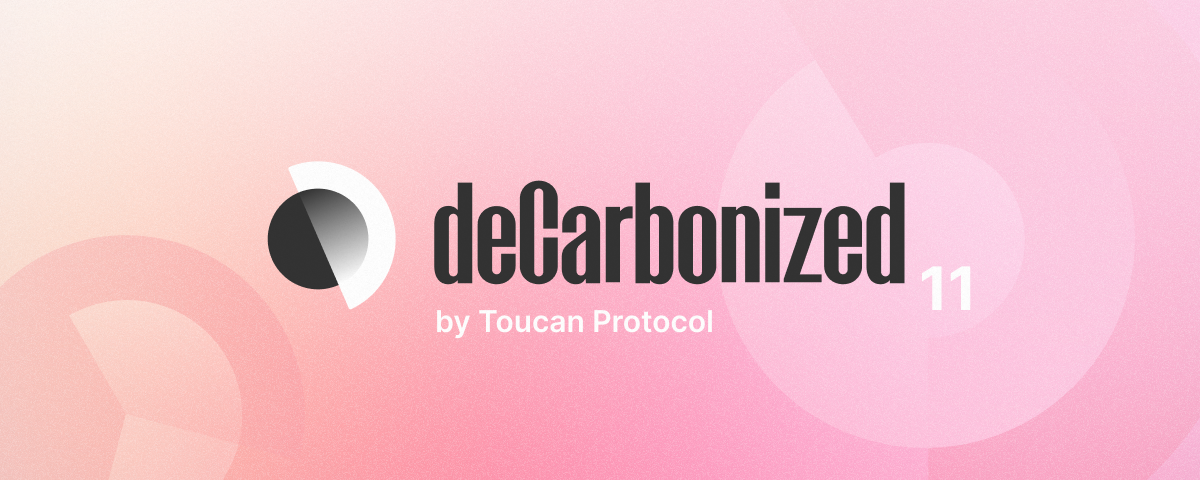 ⛓ On-chain weekly carbon stats
Toucan Protocol is building carbon market infrastructure to finance the world's best climate solutions. These are our on-chain stats from 24.03- 30.03:

Stats explained...
Bridged: Toucan's Carbon Bridge allows anyone to bring carbon credits from legacy registries onto the Toucan Registry
Traded: This figure represents the combined $ value of all trades in the Base Carbon Tonne (BCT) pool
Redeemed: Anyone can redeem carbon credits from the BCT or Nature Carbon Tonne (NCT) pool and pay a fee to specify the specific carbon tonne that they would like
Retired: Redeemed BCT and NCT tokens can be retired and claimed as a carbon offset
🦜 Want to learn more about Toucan? Join us at our open office hours, taking place every Tuesday 12pm EST/ 6pm CET on Discord
---

📢 Top news
---
🌟Co-benefits of carbon credit projects
Access to clean energy
A sustainability co-benefit that arises from carbon credit projects is increased community access to clean energy.
This directly contributes to achieving Sustainable Development Goal (SDG) 7, which seeks to "ensure access to affordable, reliable, sustainable and modern energy for all" by:
Providing universal access to safer, more efficient cooking systems for 2.6 billion people
Supplying electricity to the 759 million people that currently do not have access to power
Increasing the amount of modern renewable energy infrastructure
Delivering increased energy accesses positively contributes towards the achievement of multiple other SDGs, by improving health, reducing poverty and creating new livelihood opportunities.
Impact of carbon credit projects
Energy-related carbon credits are generally associated with large scale renewables projects. Indeed, these are the most common offset project type behind REDD+ (which we will discuss next week).
Large renewables projects however, are less focused on community-level co-benefits, seeking instead to remove large quantities of fossil fuels from a national electricity grid as opposed to improve local access to clean energy.
Conversely, household energy technology projects focus on community-scale emissions reductions. These are created via the uptake of technologies that either increase energy efficiency or use renewable energy at the household level.
There are 2 common project types:
🔥 Improved cookstoves increase the efficiency of household cooking. On average, households using traditional cooking methods consume 5-12kg of wood a day, which is time consuming to collect and places pressure on surrounding forests.

The combustion process then exposes users to toxic smoke that can cause severe respiratory problems, with the World Health Organisation estimating the damage to be equivalent to smoking 2 packets of cigarettes a day.
Overall, the process of deforestation and combustion driven by these methods releases 1 giga-tonne of CO2 a year- 2% of all global emissions.
Cleaner cookstoves provide a powerful solution, using 50-60% less wood than traditional approaches. Stoves are often made from ceramic or metal, meaning that they are more durable, sustainable and create opportunities for local manufacture.
💩 Biogas is produced by placing animal manure and other wastes into a domestic biodigester. The biodigester causes the natural process of decomposition to take place in an air free environment, producing methane rich gas. This can then be used to power various appliances, including cookers, lamps, refrigerators and engines.
Similar to the benefits of improved cookstoves, biogas use reduces reliance on surrounding biomass resources, reduces the time required to collect it and improves air quality. The process additionally improves sanitation and waste management in local communities and produces the bi-product of a high quality fertilizer.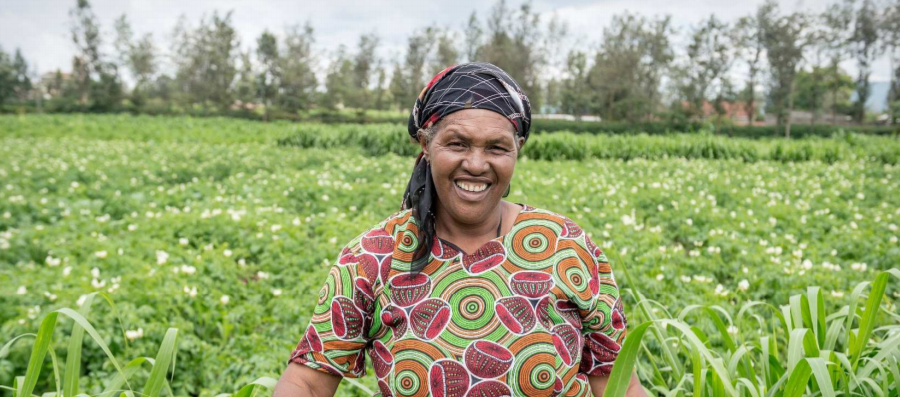 Measuring and monitoring benefits
While improved household energy solutions are essential to achieving SDG7, their uptake has been slow. There remains a fraction of the investment required to develop and roll-out these technologies, meaning that carbon credit projects can play a large role in accelerating their progress.
The multiple co-benefits that household energy projects generate is evident. The Gold Standard supports improved cookstove and biogas projects via its community-based energy efficiency market place. A 2014, a review of all 47 related projects (34 cookstove and 14 biogas) revealed that the following additional co-benefits had been generated annually:
Cookstoves - $84 million saved via improved community health; $143 million saved from reduced fuel use; $4 million generated in employment opportunities around the manufacture and distribution of cookstoves.
Biogas - $25 million saved via improved community health; $6 million saved from reduced fuel use; $4 million generated in employment opportunities around building and installing biodigesters
Indeed, one of Gold Standard's long running biogas projects by March 2020 had saved 365,200 tonnes of CO2, preserved 223,000 tonnes of wood and involved 103,440 local beneficiaries.
Under Verra's Sustainable Development Verified Impact Standards (SD VISta) there is a methodology currently under development specifically focused on the time savings generated by coo stove projects. This includes time spent collecting fuel and spent cooking, with a specific focus on improving the workload and health of women and girls.
---
Successful implementation🦋
Hifadhi-Livelihoods Cookstove Project, Kenya

The Hifadhi-Livelihoods project is developed and financed by the Livelihoods Fund, in partnership with EcoAct & Climate Pal.
Rural households in Kenya are often dependent on local biomass from forests for energy. Kenya's forests are particularly vulnerable to deforestation due to a low percentage of forest cover, resulting in huge biodiversity loss as pressure grows year-on-year.
The Hifadhi-Livelihoods project provides households in the Mount Kenya region with affordable, clean and efficient cookstoves that reduce the consumption of firewood and emit less smoke, driving positive social and environmental impacts.
Since the project's inception, it has not only saved 174,000 tonnes of CO2 annually but has had the following impacts:
Wood consumption reduced by 40%
Time spent on daily wood collection halved
60,000 locally manufactured cookstoves distributed
30 local artisans trained and provided with jobs
100% of beneficiaries stating that they now have better indoor air quality
Read more about the Hifadhi-Livelihoods project here.
---

💼 Jobs board
---
🔎 Research in focus
Three key opportunity areas for digital innovation identified by IETA task group

The International Emissions Trading Association (IETA) have released the findings and initial recommendations of their Integrity in Digital Climate Markets Task Group, which convened earlier this year.
The aim of the Task Group is to ensure that the potential of digital markets is harnessed to broaden the effectiveness, efficiency and accessibility of carbon markets. This involves developing a set of principles to assure public trust in these offerings and align their aims with the Paris Agreement.
Key opportunity areas
After listening to voices from across the sector on the use of digital tools in carbon markets, the Task Group concluded that there were three main opportunity areas for intervention by innovative technologies:
Credit tokenization
Credits that have been digitized onto the blockchain can reduce market friction, increase access for both buyers and sellers, reduce transaction fees and scale flows of capital to the carbon market.  

There are risks that need to be managed around their use, in relation to speculative tokenization schemes; the lack of transparency in the governance of Decentralised Autonomous Organisations (DAOs); and the uncertain regulatory treatment of tokenised carbon.

Digital MRV
The deployment of digital technologies in monitoring, reporting and verification (MRV) can increase market efficiency, accuracy and transparency. These advances need uniform standards to ensure that they enhance robustness and do not undermine integrity in place of efficiency.

Data repositories
Blockchain technology can enable data repositories such as the World Bank's proposed Climate Warehouse, which aspires to link all carbon credit issuing authorities and registries under one platform. This creates much needed transparency on the status and location of all carbon credits and will help avoid the double counting of credits.
Initial Recommendations
Based on these findings, the Task Group has developed an initial set of recommendations for guiding principles that will ensure overall market integrity.
Some of these include:
Credible standards: Where carbon credits are being used to issue digital tokens these credits should come from projects that are validated, verified and registered under standards by ICROA or government-approved carbon crediting schemes.
Registry control: The authority to decide whether or not to allow market participants to tokenise carbon credits and retire them should reside solely with Standards organizations.
Digital MRV integrity: The increased use of digital MRV should be coupled with a rigorous and transparent process to control data and claim integrity, in order to eliminate bad actors and ensure auditability.
Find more details and the full list of recommendations here or check out John Ellison's excellent Twitter summary.


Thank you for reading deCarbonized! 👏
Reach out to us on social and join the community ✨
Suggestions on what to cover next? Let me know @DrHolWat
🌿
What is Toucan?
Toucan is building the technology to bring the world's supply of carbon credits onto energy-efficient blockchains and turn them into tokens that anyone can use. This paves the way for a more efficient and scalable global carbon market.