We're answering 9 questions about Toucan
Toucan is building technology to unlock climate action at scale. We are answering the 9 most frequently asked questions about Toucan's architecture, purpose and vision. Let's get started!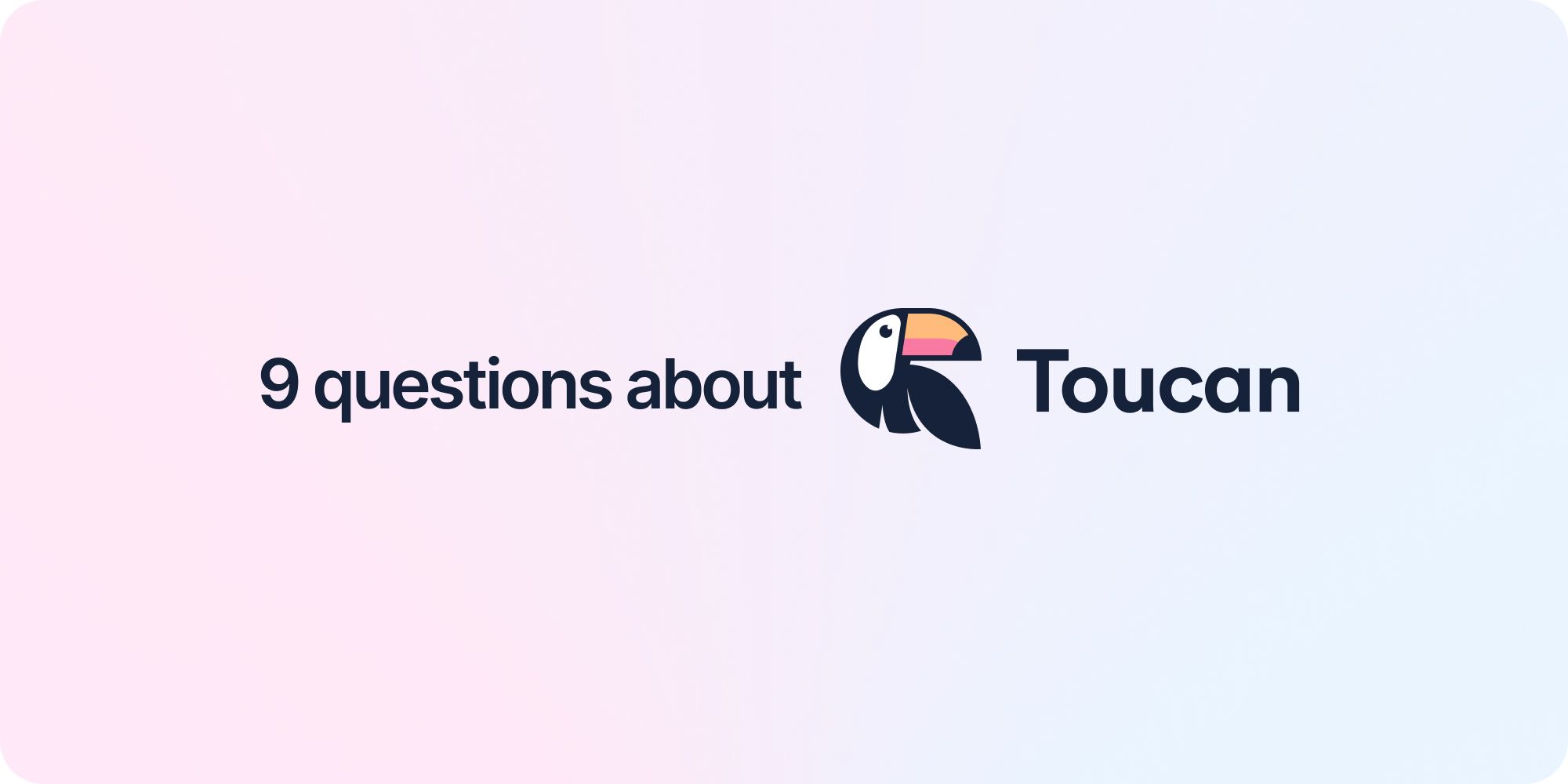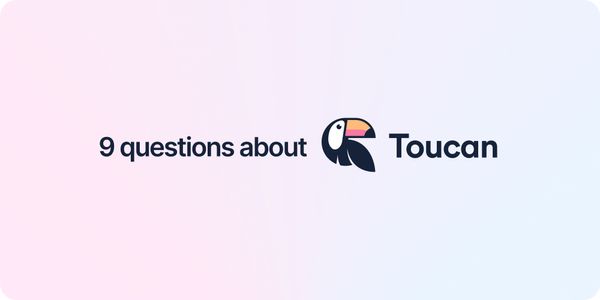 Toucan is building technology to unlock climate action at scale. Our digital infrastructure is helping the voluntary carbon market (VCM) grow with transparency and high integrity. It increases the flow of revenue to the most effective climate impact projects, by bringing established and nascent environmental assets on the blockchain.
In this post, we are answering the 9 most frequently asked questions about Toucan's architecture, purpose and vision. Let's get started!
You can also jump to the questions you're most interested in 👇
What is Toucan?
Toucan is an infrastructure provider. Our products allow people and organizations to tokenize environmental assets, for example carbon credits, to trade them without friction and use them in a wide range of applications. At its core, our infrastructure can be described as software that enables digital and more efficient environmental asset markets. To achieve this, we leverage novel Web3 technology (like blockchains and smart contracts), as these tools are perfectly suited to support scalable climate action.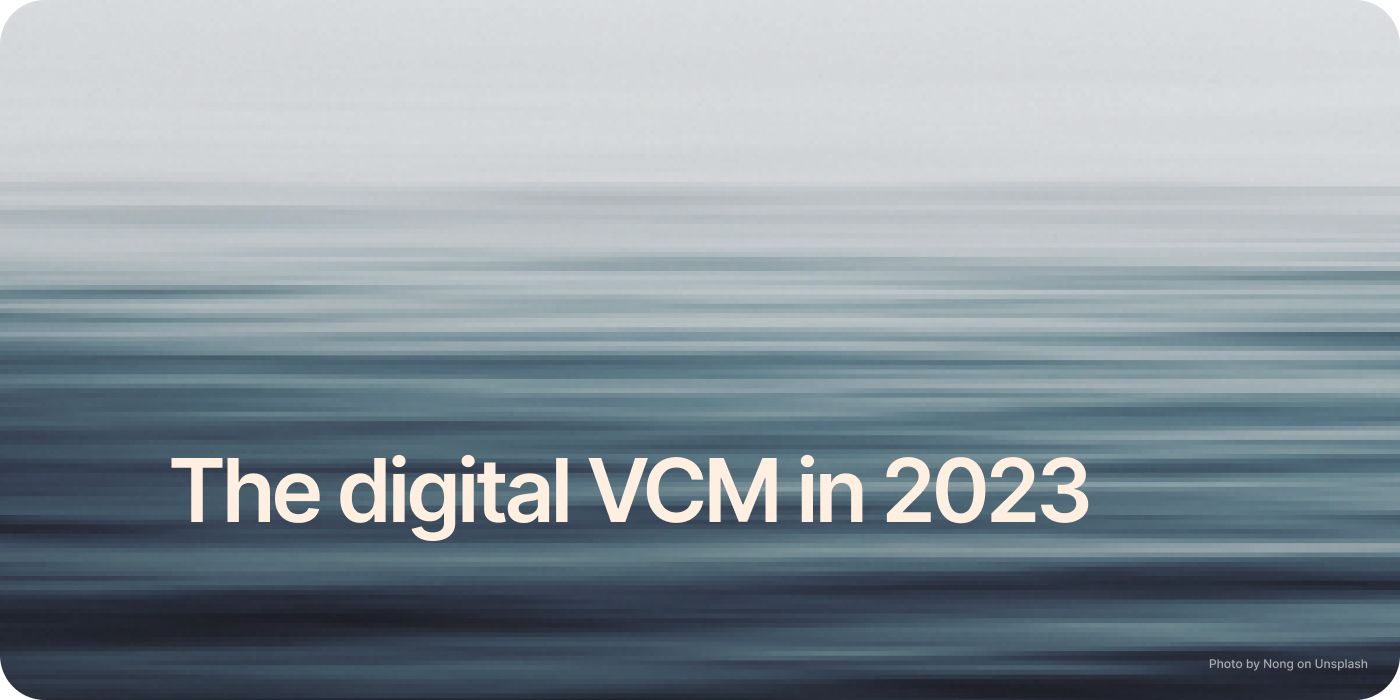 We have pioneered a method to tokenize carbon credits without losing any of their metadata or attributes, like methodology, country of origin and vintage.
💡
To date, Toucan has tokenized roughly 21 million carbon credits. 85% of all carbon tokens on the blockchain follow the data model developed by Toucan.
Additionally, other projects can expand on our infrastructure — for example by building freely accessible carbon credit marketplaces, transparent climate impact reporting dashboards, or software that automatically compensates for a companies' or individuals' emissions.
What are the different parts of Toucan's infrastructure?
Toucan Carbon Bridge: Carbon credits are tokenized via "Carbon Bridges". These bridges are connected to conventional registries, like Verra and Gold Standard. Once bridged, tokenized carbon credits can be sold, transferred, retired or held in private, blockchain-based accounts.
During the bridging process, each carbon credit from the source registry is linked to a unique token (called TCO2). All information attached to the carbon credit is recorded in a blockchain-based database, and everyone can view and verify it.
Open Climate Registry (OCR): The Toucan OCR is a transparent and neutral database that stores information on all carbon credits that have been tokenized or exist only as carbon tokens. The OCR addresses key issues of carbon markets, for example data silos and fragmentation across standards and registries. Individuals and organizations can freely browse the Open Climate Registry and view information and trading history of all recorded carbon credits.
With this global "source of truth" for carbon credits, carbon markets can scale faster, standards bodies are able to monitor market activity better, credit developers have a better basis for negotiating prices, and buyers can make informed purchase decisions.
Toucan Carbon Pools: These pools solve liquidity issues with carbon markets. They hold tokenized carbon credits with similar attributes (like methodology or vintage), and pay out a liquid and easily tradable reference token in return. Everyone can deposit their tokenized carbon credits into a carbon pool — provided that the attributes match the pool filtering criteria!
💡
Liquidity refers to how easily an asset can be bought or sold on the market. Highly liquid assets, like publicly traded stocks, can be easily bought and sold — there is no lack of buyers and sellers. Carbon credits have historically not been a liquid asset class, as they differ in vintage, methodology, country of origin and other traits. This makes it often slow for project developers to sell their credits to the market instead of to a broker or other middleman.
Let's take one example: Carbon token A has been issued to a reforestation project in 2018 in Brazil. Carbon token B has also been generated from a reforestation project, but two years earlier and in Ecuador. Both credits, A and B, can be deposited into the same carbon pool (for example the Nature Carbon Pool). Each depositor will receive as many carbon reference tokens (NCT) as they have deposited tokenized carbon credits. These reference tokens are exactly the same, independent of the tokenized carbon credit they've replaced. And they can speedily be traded on cryptocurrency exchanges, and used in blockchain applications that accelerate climate action.
Who is the team behind Toucan?
We're innovators and experts from all sorts of backgrounds – tech, engineering, carbon markets, environmental and data science – bound by a shared ambition to shape a more regenerative economy and restore the health of our planet. Learn more about our mission and meet the team.
We are involved in working groups with global organizations and carbon market standards bodies and registries like WEF, Gold Standard and IETA, to help identify how to scale carbon markets in a safe and sustainable way.
(How) can I work with, or use, Toucan?
If you have an interest in compensating for emissions, or a stake in carbon markets or carbon credits, you can leverage Toucan's infrastructure!
Carbon Registries: Carbon standards or registries, like Verra, can link their system to the Open Climate Registry and allow credit holders to turn their carbon credits into tokens via the Toucan Carbon Bridge.  New standards could consider not operating a registry at all, and natively issue carbon tokens that are stored on the Open Climate Registry.
Carbon project developers: Project developers can use Toucan to tokenize their carbon credits. These tokenized credits can then be sold directly to organizations, individuals or novel Web3 applications, without the need to rely on middlemen or carbon brokers.
🌿
Like this content?
Sign up here
to receive ReGenerate (and occasionally other content we think you'll find interesting) straight into your inbox!
Carbon credit buyers: Toucan's infrastructure (like the Open Climate Registry) provides a secure and transparent way to verify the origin and integrity of carbon credits a company or individual is interested in buying. This makes it easier to form and execute a sustainability strategy that is suited to the organization's vision. Additionally, transparent carbon marketplaces are being built on top of Toucan's infrastructure. Here, buyers can purchase carbon credits directly from the developer for a fair price, without having to defer to brokers or middlemen to source credits.
Intermediaries: With Toucans infrastructure, intermediaries can tap into deeply liquid carbon markets. High liquidity equals faster carbon credit sales, instants settlements, no need to find a counterparty or buyer, and no arbitrary price changes.
Intermediaries and individuals can also earn additional income if they are willing to provide liquidity on blockchain-powered carbon credit exchanges.
Climate startup founders and developers: Everyone can freely build their own products on top of Toucan's infrastructure, or leverage tokenized carbon credits in their application. You can either get started independently — although we'd love to learn what you are building; make sure to tag us if you share progress on your work on Twitter or LinkedIn. Or reach out to us for guidance. Our Builder Hub provides you with resources, personalized advice, networking opportunities and marketing support. We also have grants available for products that make the blockchain-powered carbon ecosystem better! 🤑
Does Toucan issue carbon credits?
No, we don't issue carbon credits — this is the job of carbon standards bodies. Toucan merely provides infrastructure that allows carbon credit holders to tokenize their credits, or registries to natively issue carbon credits on Toucan's Open Climate Registry.
What are TCO2s, BCT and NCT, and how are they different?
Simply put, TCO2s are tokenized carbon credits. BCT and NCT are the first carbon reference tokens created on Toucans infrastructure, and they are stripped of most attributes. In the future, we are planning to launch more pools, which will have their own reference tokens. All of these tokens can be traded, transferred, or leveraged in novel Web3 applications. Let's look at this in more detail:
TCO2: One TCO2 represents one tokenized carbon credit, is one-to-one linked to a credit issued by a conventional registry, and has its unique attributes (like project, vintage or methodology) attached. TCO2s can be deposited into Carbon Pools, sold directly to interested buyers, transferred or gifted, held or retired — similar to carbon credits in conventional registries.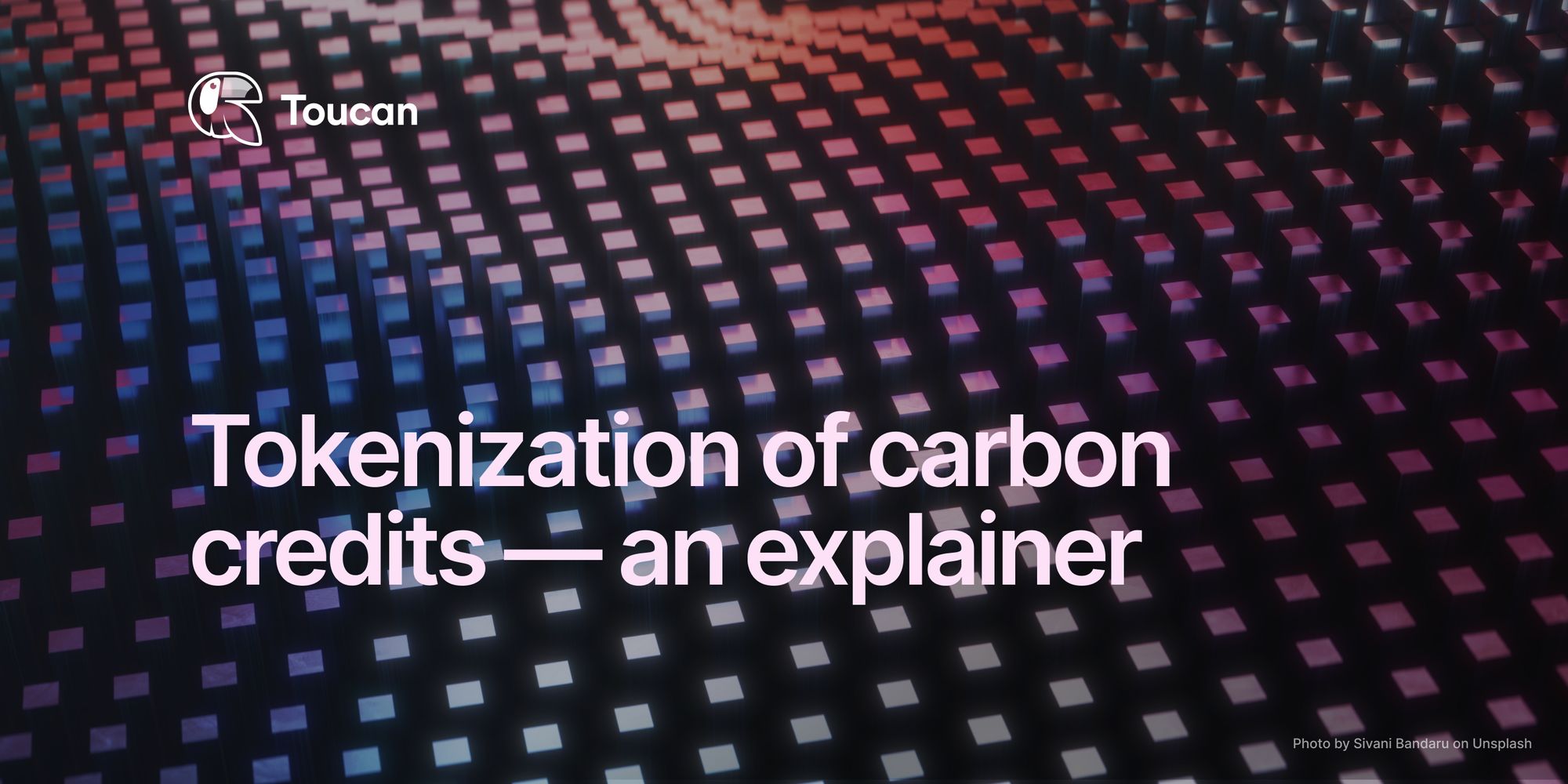 NCT: This carbon reference token represents credits developed with nature-based methodologies, like reforestation initiatives, with vintages from 2012 onwards. To generate one NCT, you can deposit suited TCO2s into the Nature Carbon Tonne pool.
💡
NCT and BCT can be redeemed for TCO2s. This function is important for climate action, as only TCO2s can be retired.
BCT: This is the carbon reference token coming out of the Base Carbon Tonne pool. This pool was launched in October 2021, and it accepts a wide range of carbon credits: You can deposit tokenized carbon credits from all methodologies, issued from 2008 onwards. The only criteria is that less than 10 years need to have passed between verification period and credit issuance.
Are BCT and NCT Toucan tokens?
No, they are not. BCT and NCT are carbon reference tokens — they are backed by real world carbon credits that have been digitalized via the Toucan bridge. Toucan doesn't trade BCT or NCT.
How are carbon credits not double-counted when they come across the Toucan bridge?
Before the tokenization process starts, carbon credits are immobilized or blocked in the source registry. That way, the credit holder can not move, sell, or retire the conventional credit, as long as there is an active digital counterpart of said credit. In its digital version, a carbon credit cannot be duplicated, sold to multiple parties or retired more than once. Once a transaction is executed, the credit is permanently moved to the new holder's account.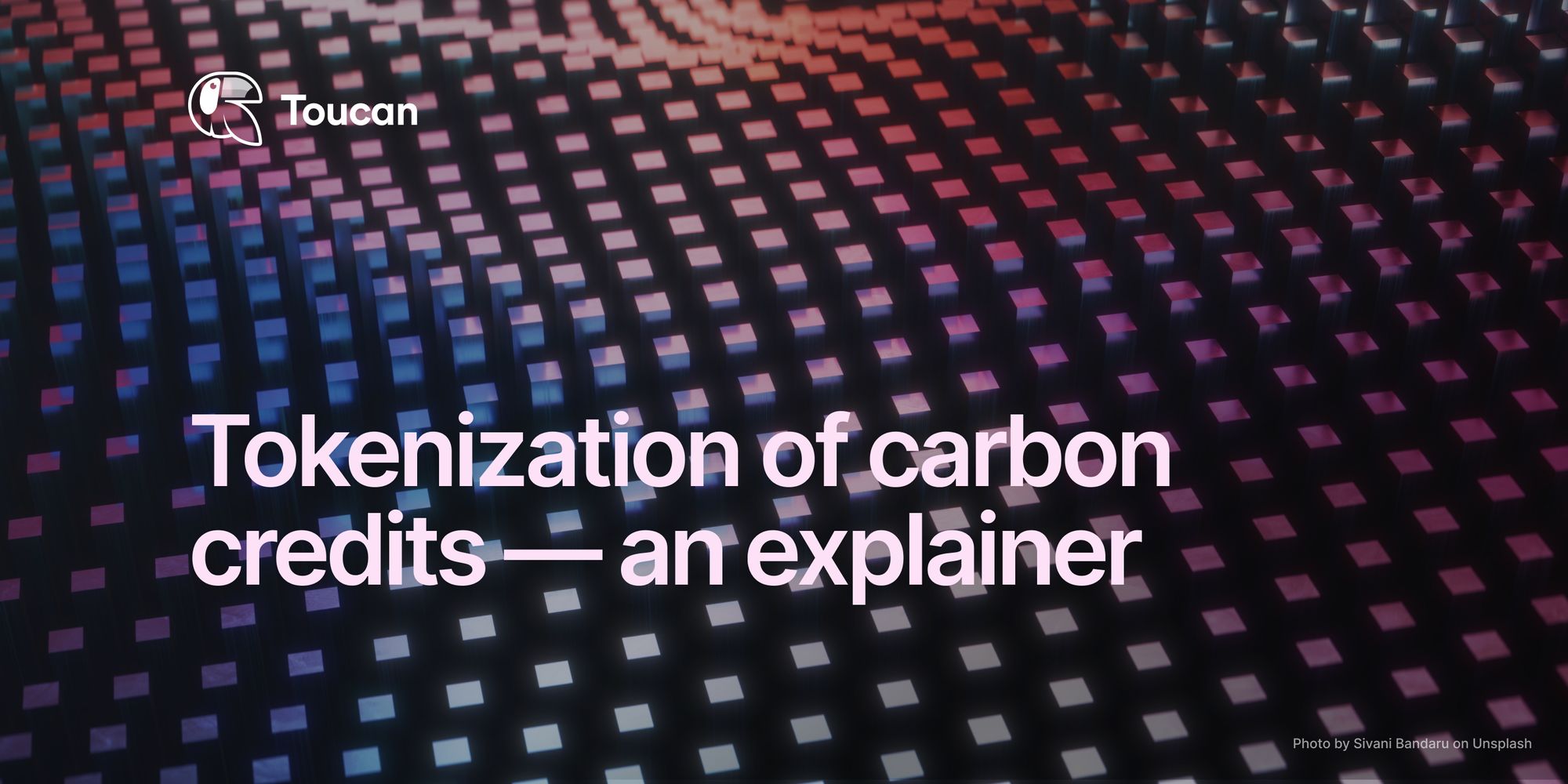 💡
Double counting in the VCM is the act of making multiple claims on the same carbon credit, which can result in an overestimation of emission reductions and compromise the integrity of carbon markets.
How is Toucan sustainable, if blockchains use a lot of energy?
Many people associate blockchains with a high energy consumption — but the reality is quite a bit more complex than this! Bitcoin, for example, is the largest blockchain, and it indeed uses a lot of energy. The reason for this: The Bitcoin network relies on a process called Proof of Work (PoW) to add blocks of data to its chain. PoW refers to computers working in competition to solve difficult mathematical puzzles — a process known as mining.

Other blockchains (like Ethereum, the second-biggest blockchain network) use a mechanism called Proof-of-Stake (PoS). This mechanism is extremely energy-efficient and consumes a tiny fraction of the energy that networks like Bitcoin need. To put this into context: Moving to the Proof-of-Stake (PoS) mechanism lowered Ethereum's energy consumption by 99.5%. PoS is also used by Polygon and Celo, the two blockchains on which Toucan is operating.
Finally, there is a growing awareness on the sustainability of blockchain networks, and many movements are springing up to compensate for (historic) emissions of big blockchain networks. One example is the Ethereum Climate Platform, a collaboration between carbon registry Gold Standard and various web3 organizations, with the aim to compensate for the historic emissions of Ethereum. Other initiatives include climate-friendly events and a convenient blockchain-powered tool that helps travelers offset flight emissions.