Toucan Twitter Spaces – Season 2
In Season 2 of the Toucan Twitter Spaces, we chat with the innovators, the builders and stakeholders working on improving carbon markets and standards.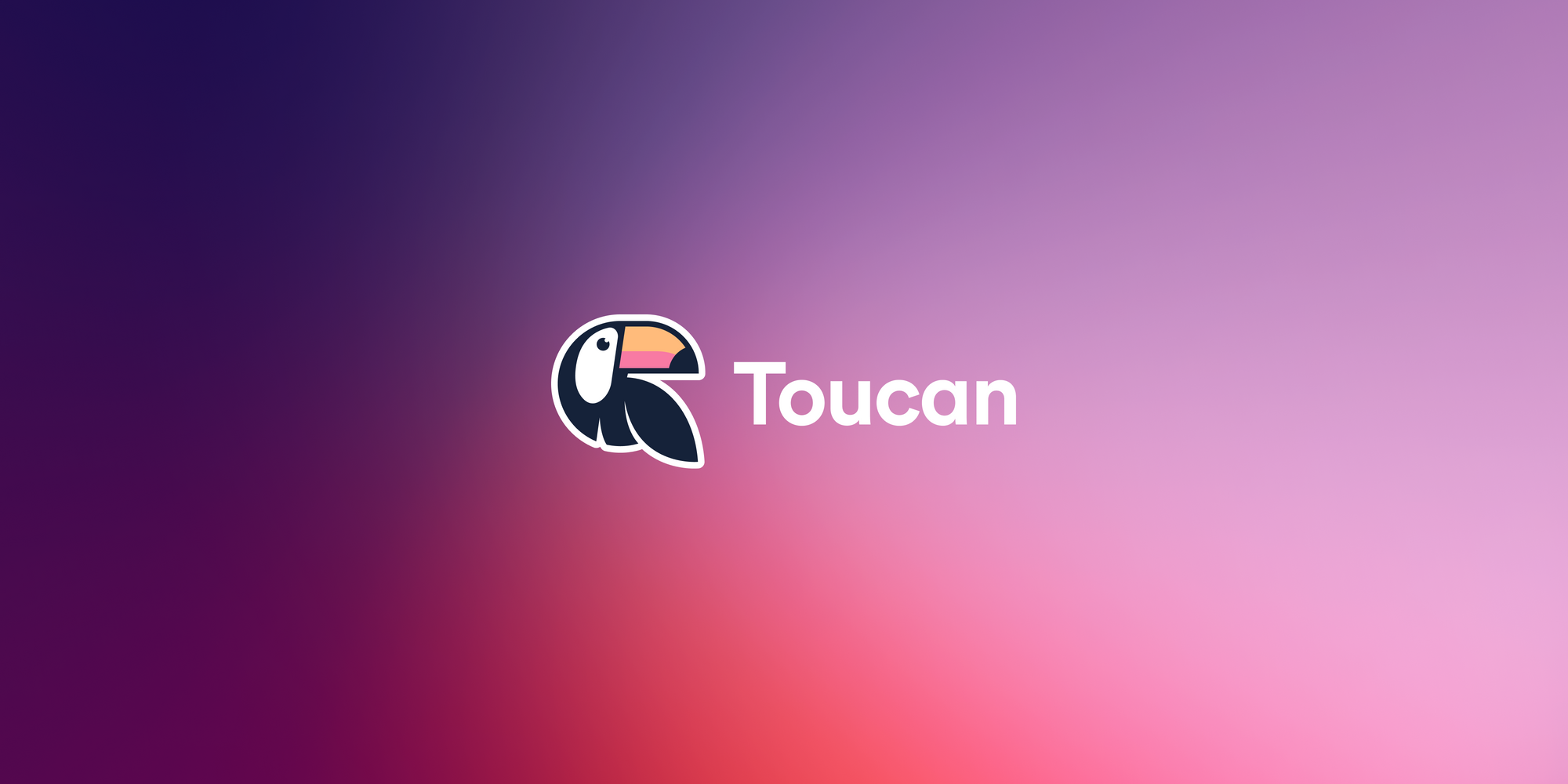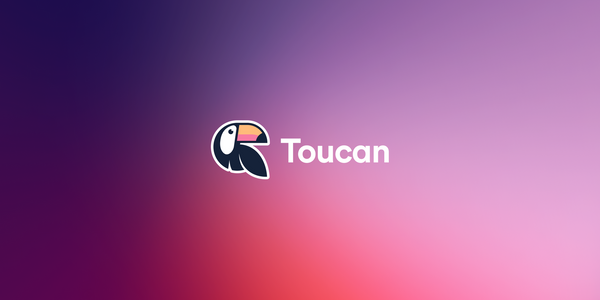 Carbon markets are an important piece of the puzzle to addressing climate change. But there are many issues: A lack of industry-wide standards, credits with low integrity, and hard-to-access-marketplaces are some of the key challenges that need to be addressed.
In Season 2 of our Toucan Twitter Spaces, we chat with the innovators, the builders and stakeholders working on improving our current carbon markets and carbon standards. Here's what we will cover in the next five spaces.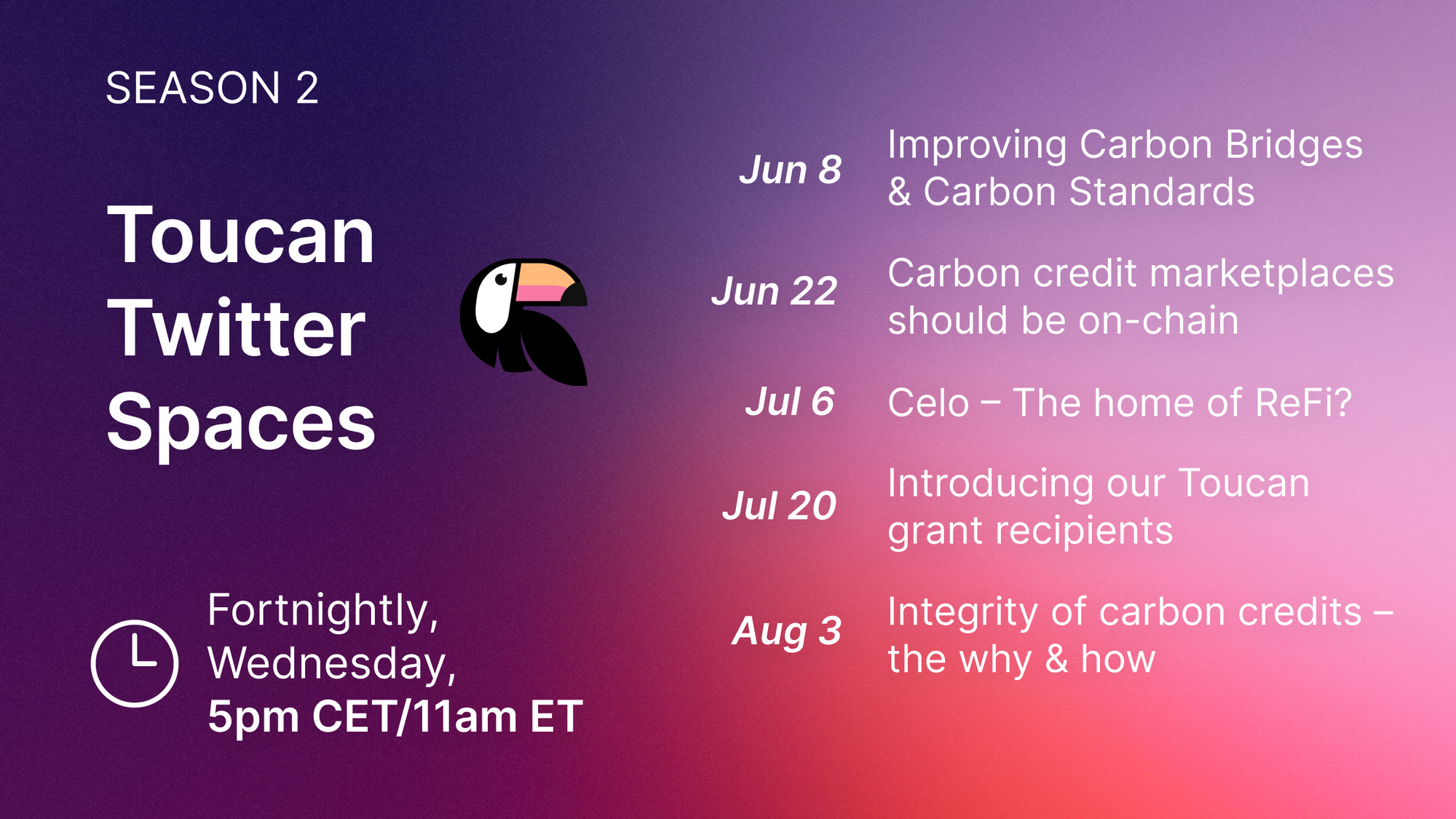 Improving Carbon Bridges & Carbon Standards – June 8
After Verras announcement around tokenizing carbon, discussions got heated in the ReFi space. Let's unpack what linking traditional & Web3 carbon markets looks like. How can registries ensure high carbon standards & integrity?
https://twitter.com/i/spaces/1BRJjnqMALgJw
Selling carbon credits directly on-chain – June 22
What are TCO2 marketplaces, and why do we need them?
Carbon credits aren't equal. Offsetters and climate-positive companies want to know exactly what type of carbon credits they are buying, and do so directly, without going through a broker or middleman. We'll dive into the whys and hows of carbon credit trading on-chain.
Celo – The home of ReFi? – July 6
Toucan & Celo have recently announced a partnership. We're excited to learn more about Celo – a planet-positive, mobile-first blockchain that attracts all the top ReFi projects. Should you start buidling on Celo too?
Introducing our Toucan Grant recipients – July 20
We've been giving out grants from our Coinbase Giving Fund to talented builders working with on-chain carbon. Now, we want to see them in the spotlight: What are they building, how did they get started, and where do they hope to have the greatest impact?
Integrity of carbon credits – August 3
What does "integrity" actually mean when it comes to carbon credits? We'll invite experts to explain this important term. We'll dive into ways to ensure high-integrity credits – as a project, and as a person buying the credits. And lastly, we will be looking at how blockchains can help with strengthening integrity for carbon credits.
🌿
What is Toucan?
Toucan is building the technology to bring the world's supply of carbon credits onto energy-efficient blockchains and turn them into tokens that anyone can use. This paves the way for a more efficient and scalable global carbon market.