Solving climate problems: 4 Blockchain projects that have a real-world impact
We introduce 4 innovative climate blockchain projects and their positive, real-world impact on the environment and the communities in which they're based.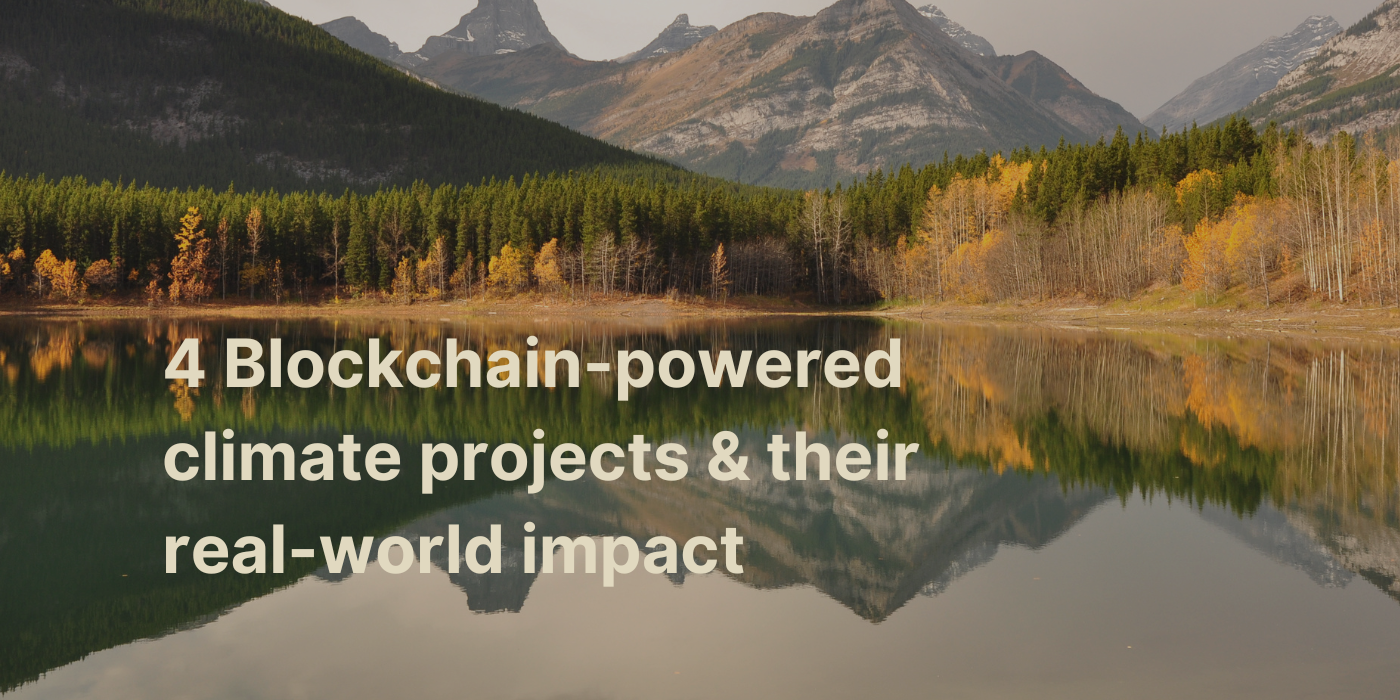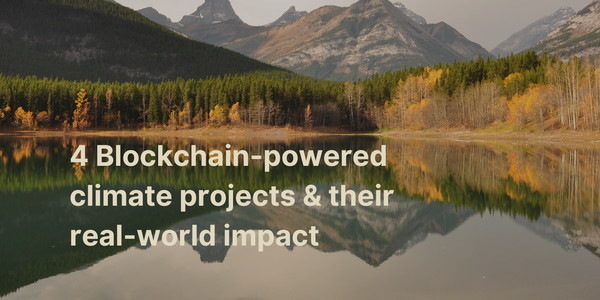 The World Economic Forum (WEF) recently released its Blockchain for Scaling Climate Action white paper. Based on seven months of research with industry leaders, the paper explores key trends, challenges, and opportunities related to the use of blockchain technology for climate action. We are proud to have contributed to this whitepaper, alongside our friends at the Climate Collective.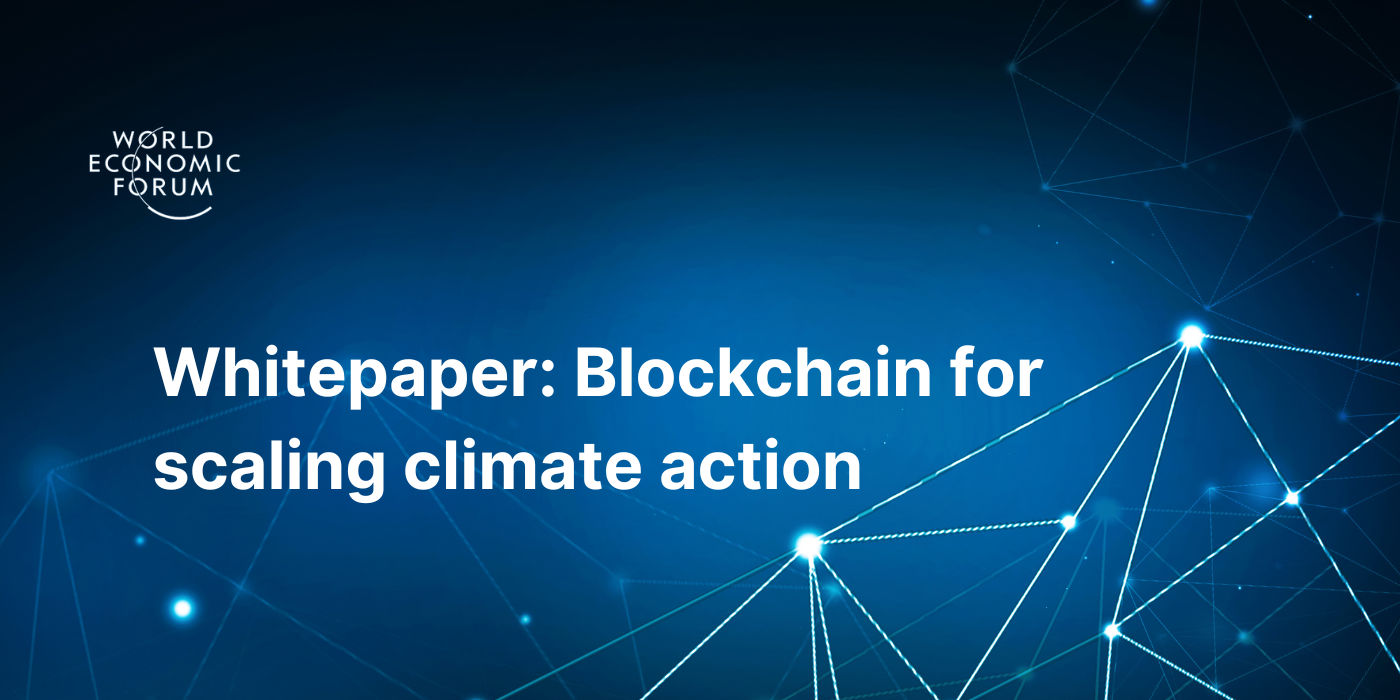 The last section of the paper looks into the future. It highlights that blockchain projects need to demonstrate that they're having a real-world impact on solving climate problems. It states:
Blockchains can only be proven to provide high-quality solutions if their innovations are put to test.
The great thing: The impact of blockchain-powered climate action can be transparently checked and communicated to the broader climate action community.
Many current projects remain in the early stages of real-world application, but results are already emerging. They demonstrate a direct impact on reducing CO2 emissions, help to protect and restore forests and drive finance to local communities. Here, we highlight four pioneering projects which provide an early glimpse into the impact that blockchain-based climate tech can have projects.
1. Regen Network
Regen Network incentivizes the regeneration of ecosystems. With its native token, the REGEN, everyone can purchase ecological credits. These credits represent the value of the ecological services provided to a particular ecosystem, such as carbon reduction, water purification, or biodiversity conservation. Regen Network can help to mitigate climate change, improve water quality, and increase biodiversity by incentivizing the regeneration of ecosystems. Additionally, it can help to create sustainable livelihoods for people who depend on healthy ecosystems.
Regen has created a marketplace for ecocredits, which includes credits for carbon and other ecosystem services like water quality and biodiversity. In 2023 alone, two million new credits have been added.
It is also possible to retire Regens eco-credits. So far, 588,448 credits have been retired on the Regen platform. And: Regen is currently developing 40 new methodologies that will be able to scientifically verify the benefit of different ecosystem services. This enables more regenerative projects to be able to sell ecocredits over time.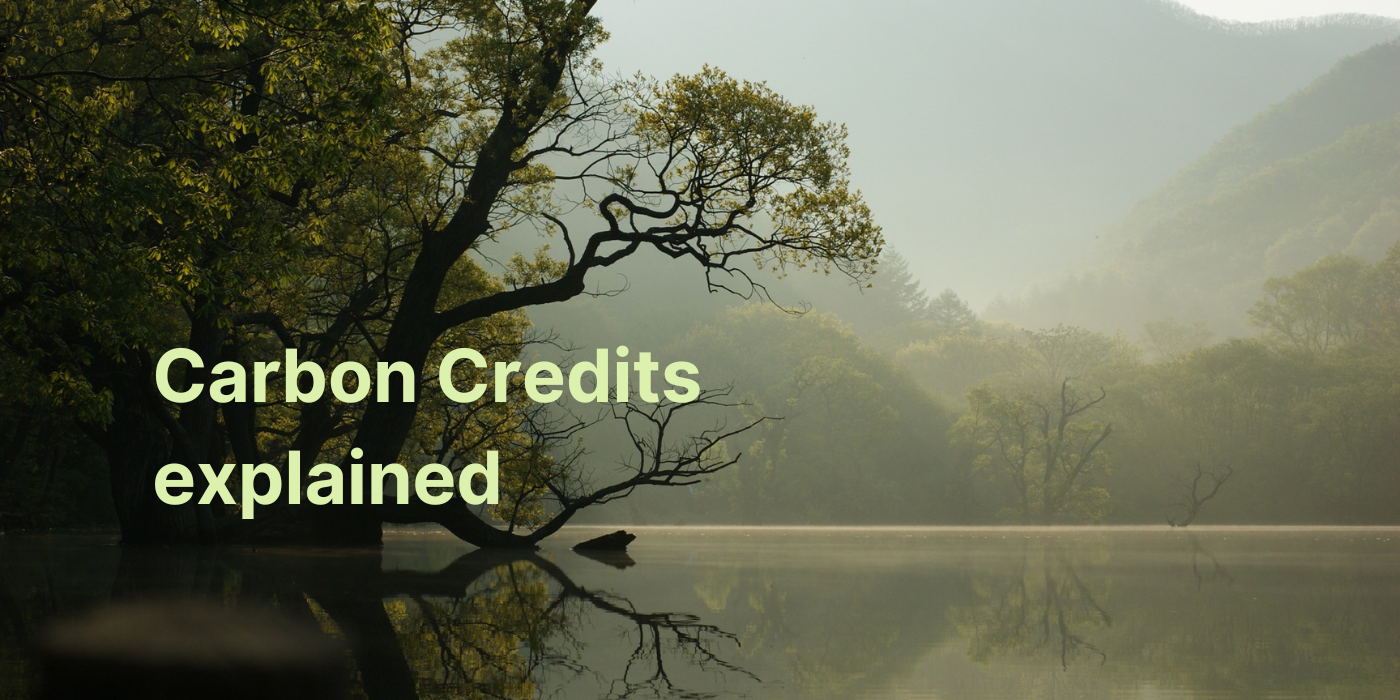 2. Open Forest Protocol (OFP)
OFP is a blockchain-based platform that revolutionizes the measurement, reporting, and verification (MRV) of forestation projects. It was created to address the challenges of MRV in the forestry sector, such as a lack of transparency, high costs, and long verification times.
OFP provides project developers with a decentralized, tamper-proof, and transparent way to collect and store data on forest projects. This data can be used to track progress, verify results, and ensure that goals are being met. This, in turn, will open new revenue streams from carbon market finance, as carbon credits created by protecting or restoring forests can be verified and sold with a high level of integrity. As you can see in the table below, OFP reduces barriers to carbon market entry by enabling projects of all sizes to benefit from the advantages of high-quality MRV.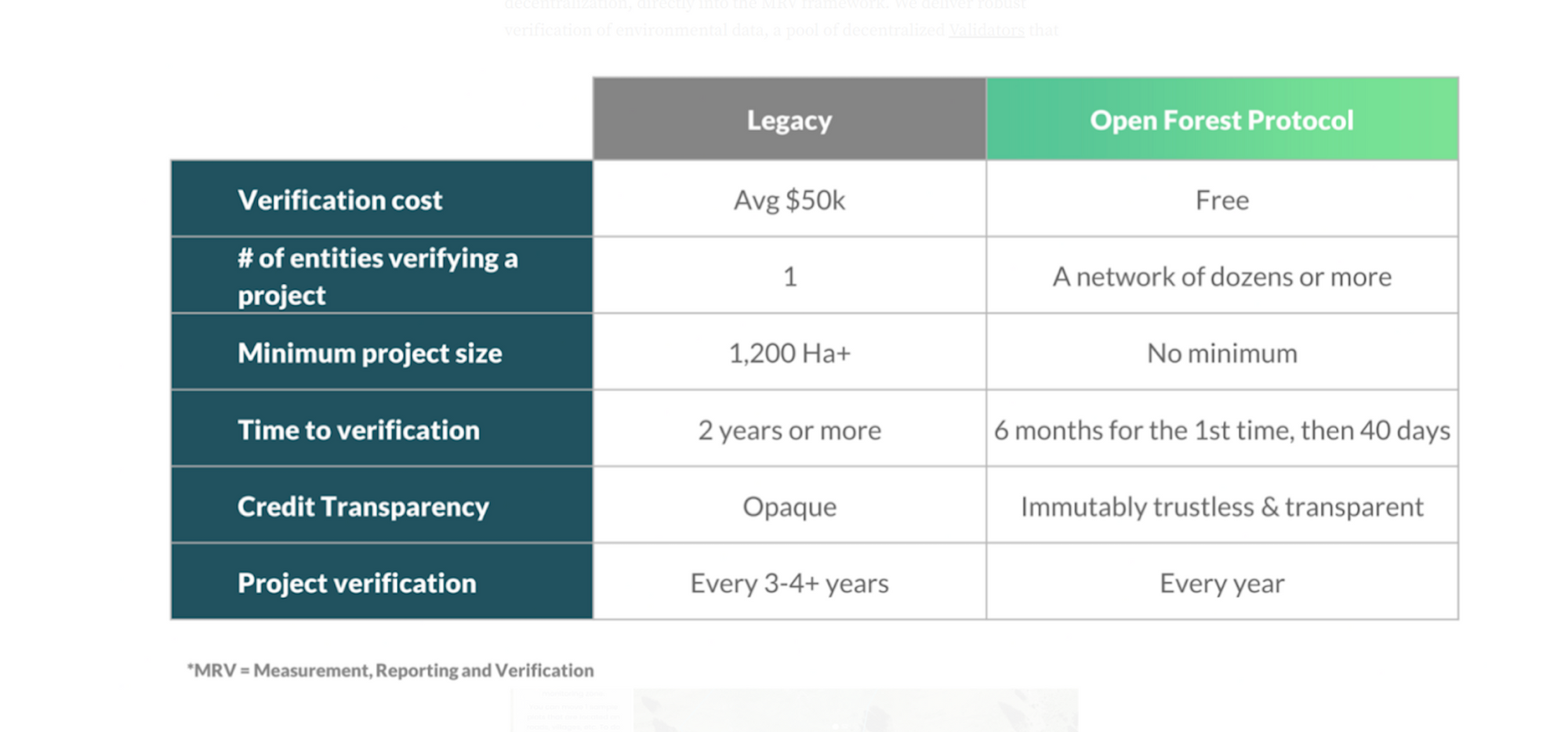 To date, 41 projects covering 4,569 hectares of land are supported by OFP. Six of these are seeking to sell the carbon credits that they will ultimately create. Anyone can view the details of these projects, including their timeline for development and the latest monitoring data using the OFP Ecosystem Explorer.
3. dClimate
dClimate is a decentralized climate information ecosystem that makes it easy for businesses and builders to find, access, and utilize essential information about our planet. Accurate and accessible climate data can be used to improve decision-making about climate-related issues, such as:
where to build infrastructure
how to manage water resources
how to protect vulnerable communities.
This results in greater opportunities for innovation, as data is accessible to all.
dClimate now collaborates with Rainforest Partnership to develop an educational campaign for World Rainforest Day and COP28. The campaign will highlight the importance of rainforests in combating climate change, the role of innovative technologies for conservation, and the need for global collaboration in achieving climate goals.
They will additionally implement digital measurement, reporting, and verification (dMRV) and data monitoring for Rainforest Partnership's on-the-ground projects, establish data partnerships with local communities, and make baseline forestry health data available for forest conservation projects. This will enable more targeted, just, and effective conservation efforts.
4. Toucan Protocol
To close off this list of great projects, let's also have a look at what we at Toucan are doing. Toucan is building technology to unlock climate action at scale. Our digital infrastructure is helping to grow the voluntary carbon market (VCM) in a transparent and high-integrity way. It increases the flow of revenue to the most effective climate impact projects by bringing established and new environmental assets on the blockchain. With Toucans infrastructure, it's possible to:
Trade carbon credits on decentralized asset exchanges platforms
Integrate carbon into web3 applications to increase demand
Improve the liquidity of carbon markets
Make it easy for businesses and individuals to independently offset their emissions
Carbon credit retirements via Toucans infrastructure are extremely transparent and can help reduce the issue of credits being double-counted. So far, people and organizations have retired over 297,558 tonnes of carbon credits from over 50 climate projects via Toucan's infrastructure. Carbon credits come from a variety of different projects, for example, the high-impact development Rimba Raya nature reserve in Indonesia.
Toucan as an organization has also assisted the wider blockchain sector in accounting for its carbon footprint. We have retired carbon credits to compensate for large industry events like ETH Barcelona and DAPPCON.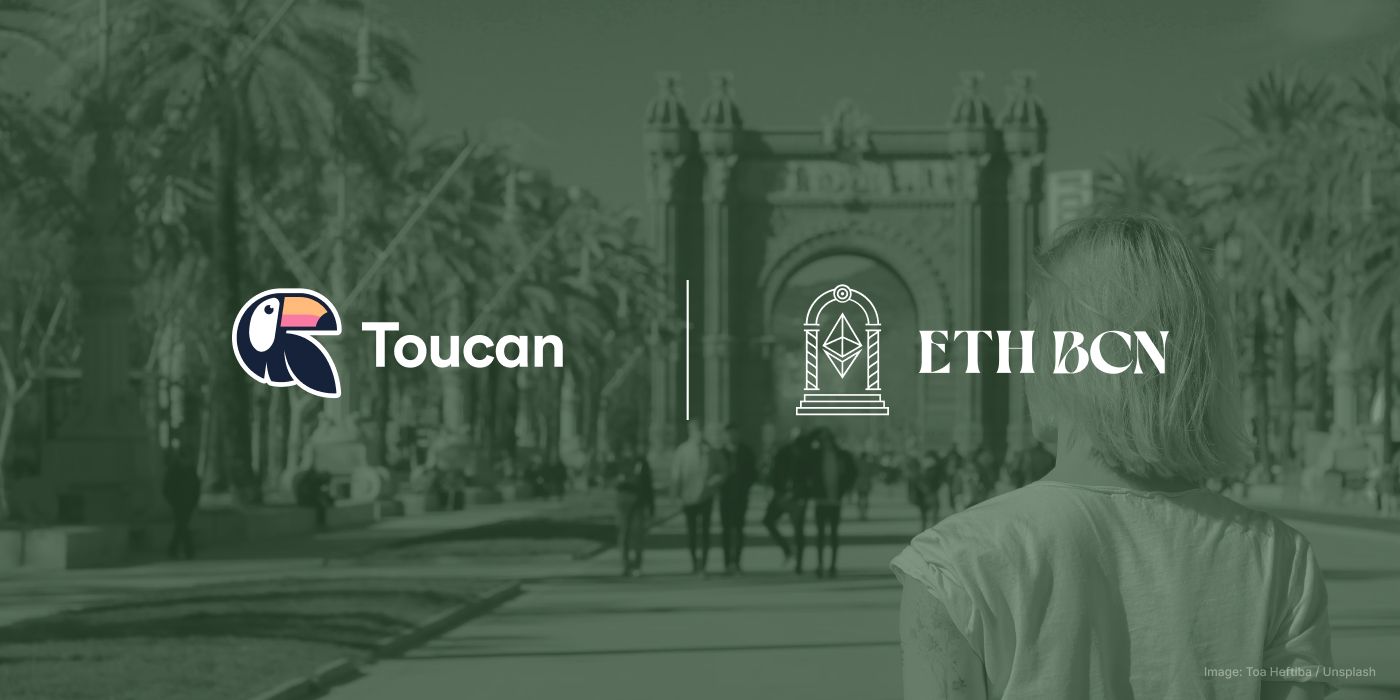 Final words
In conclusion, innovative climate blockchain projects are beginning to demonstrate positive, real-world impact on the environment and the communities in which they're based. Their decentralized, transparent, and tamperproof nature enables these projects to engage users in a way that makes climate action more accessible than ever before. As these and other projects continue to evolve, their impact will continue to grow - watch this space!
🌿
Like this content?
Sign up here
to receive ReGenerate (and occasionally other content we think you'll find interesting) straight into your inbox!