Carbon Retirements: A gift for the planet & people in your life
Retire carbon credits on-chain and receive a giftable Christmas-themed retirement certificate. The process is simple and takes minutes — instructions below. The best part? Toucan will match all NCT carbon retirement gifts as an extra present for the planet 💚🌏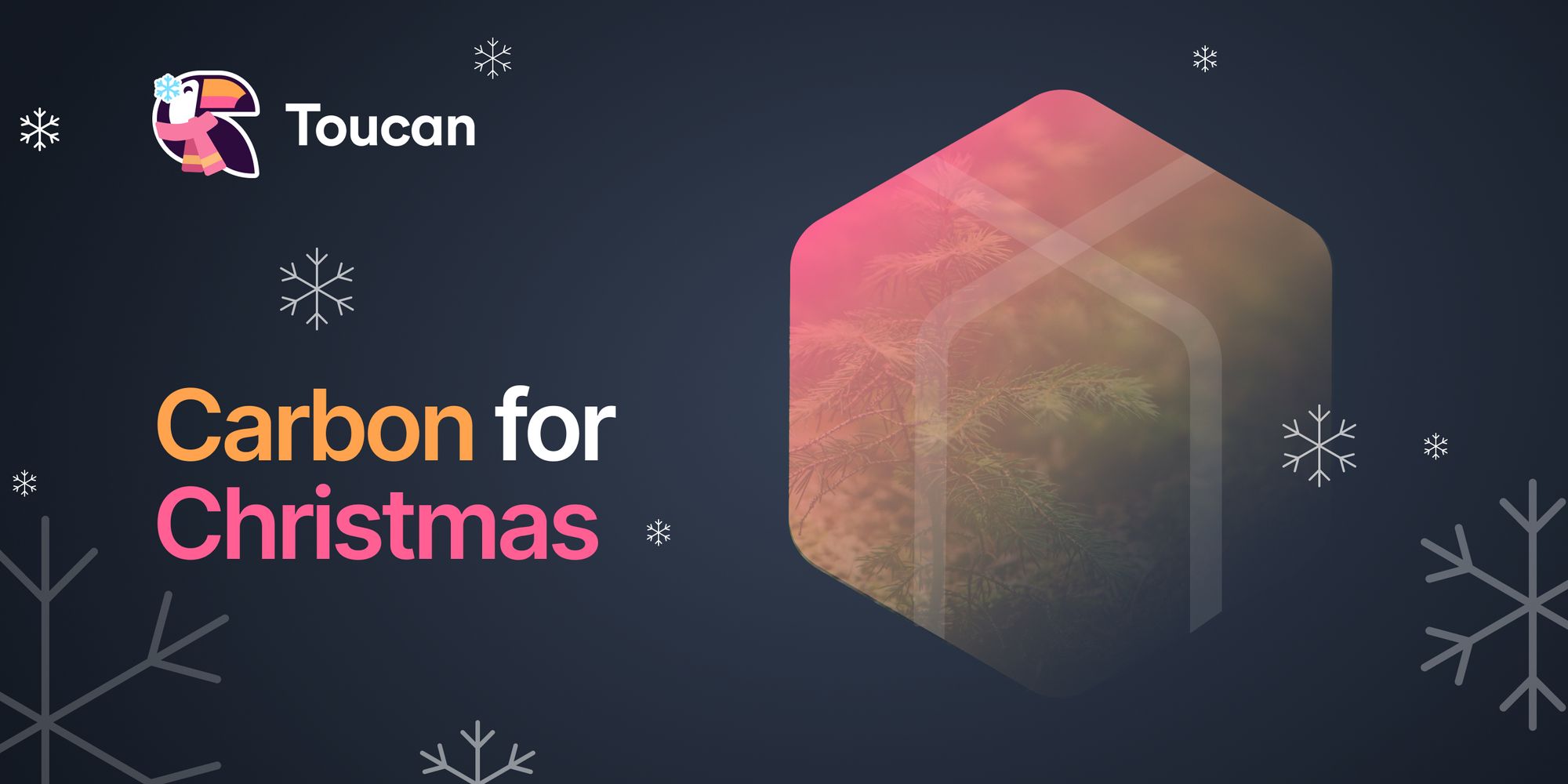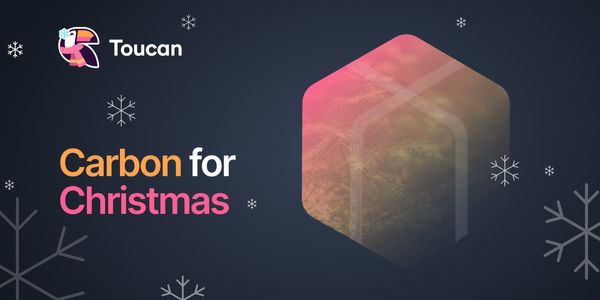 🎄
Update: We're thrilled to report that
people loved giving carbon for Christmas
- a total of 1,063.40 NCT was retired! As promised, we matched all retirements. See our
retirement transaction here
.
The total of retired carbon — 2,126 tonnes — is equal to the emissions' footprint of 200 people in Germany, or the carbon created by the disposal of 607,384 (real) Christmas trees 😮🎄
Wondering what you could possibly gift to someone who already has everything? May we suggest a gift with real, verifiable climate impact: Honor someone with a carbon credit retirement in their name!
For retirements that happen between Dec 12 and Dec 24, you can request a personalized, Christmas-themed certificate that looks pretty printed out and sent via email. It also helps you save wrapping paper.
How Carbon for Christmas works — step by step
The process for gifting a carbon retirement is simple and can be done independently and in minutes (perfect for those who once again didn't manage to go gift-shopping in time).
Purchase NCT on Sushiswap Polygon.
👉 Guide here
👉 Visit Sushiswap here (don't forget to set your wallet to the Polygon network!)
Redeem NCT for underlying carbon credits (TCO2s) via the Toucan dApp.
Retire carbon credits & don't forget to fill in all relevant information on who you retire for.
👉 Toucan dApp here
👉 Instructions for steps 2 & 3 here
Upload your retirement information here
We'll send your giftable, holiday-themed certificate 🎄 straight to your inbox 🎉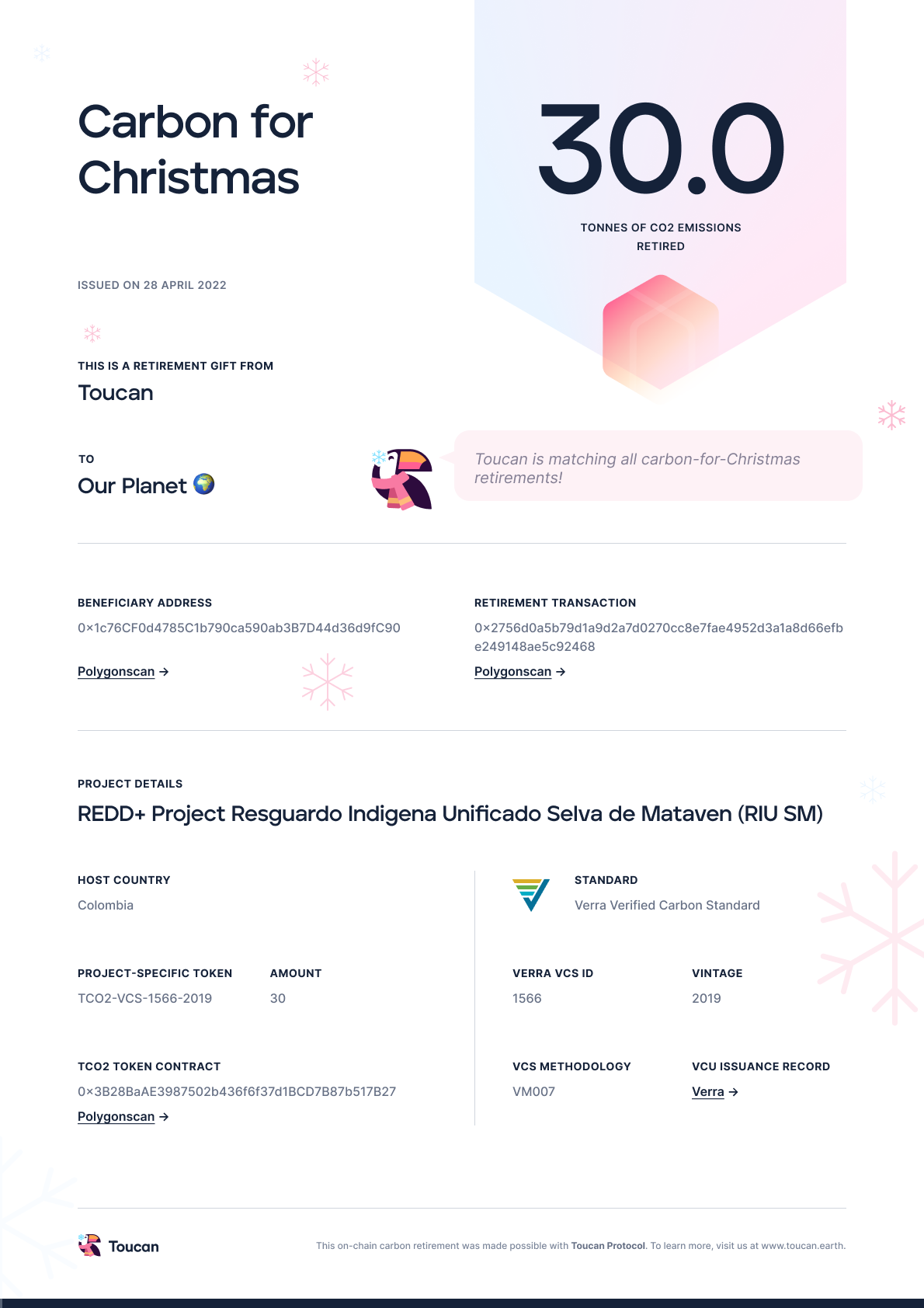 🌿
Toucan will match all NCT Christmas retirements!
The retirement certificate compiles information on
The carbon project you retired credits from
The transaction hash
Who performed the retirement
Who is the retirement for
A personalized message
Watch this video where our co-founder James Farrell explains how to buy and offset carbon credits (with the example of compensating for your flight) 👇
🌿
What is a carbon credit retirement?

The retirement is the last stage of a carbon credits lifecycle. It means the credit is taken out of circulation and can no longer be used for emissions compensation claims. At this stage, real climate action happens.
Why use Toucan to retire carbon credits?
If you perform the carbon credit retirement on Toucan, you kill two (metaphorical!) birds with one stone:
You contribute to meaningful climate action and participate in the future of carbon retirements.
You demonstrate the value of open and transparent blockchains (this might even help you explain crypto to your skeptical relatives!)
By the way, how about throwing in a lil family gift by offsetting the flights your family members take to travel back home?
Happy retirement gifting! 🎁🎄
🌿
What is Toucan?
Toucan is building the technology to bring the world's supply of carbon credits onto energy-efficient blockchains and turn them into tokens that anyone can use. This paves the way for a more efficient and scalable global carbon market.