deCarbonized #9: Gender equality, improving co-benefit requirements, Microsoft carbon removal insights
Airbus purchases of 400,000 tonnes of carbon removal credits- the largest in history; Chevron's carbon partnership highlights changing industry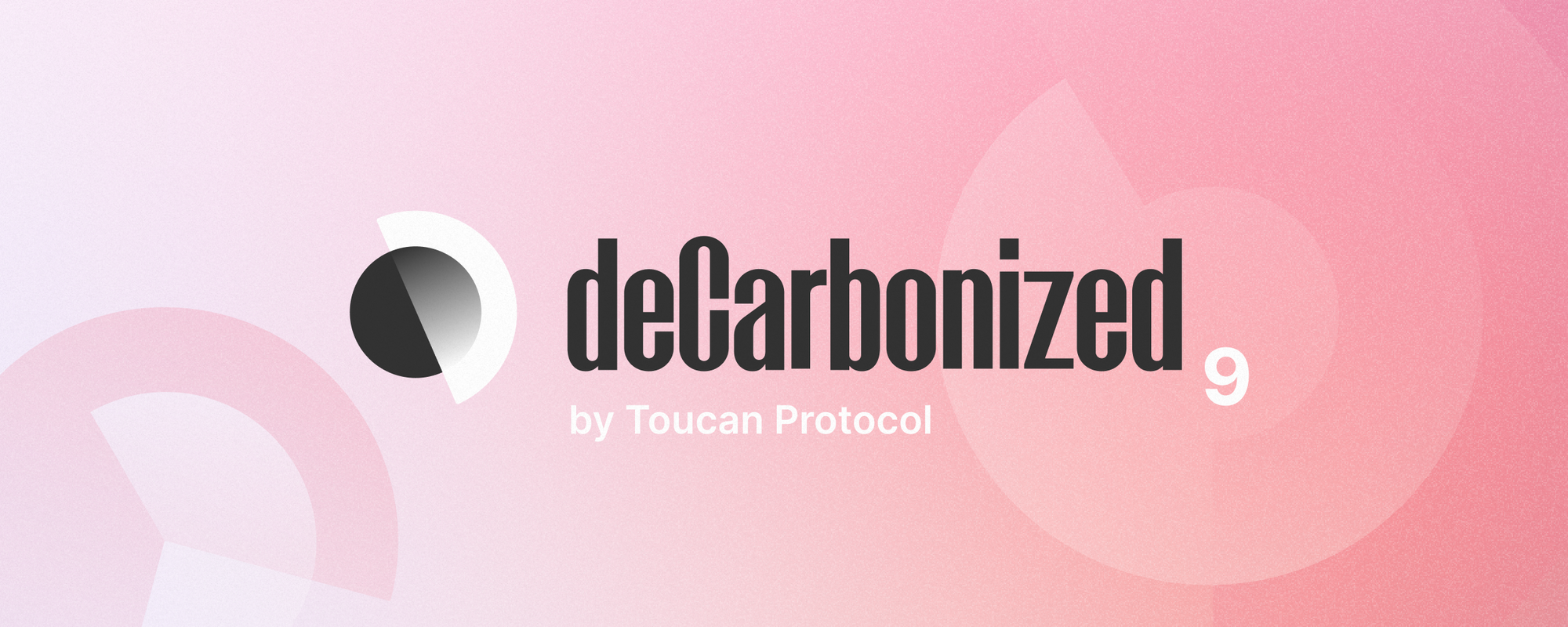 ⛓ On-chain weekly carbon stats
Toucan Protocol is building carbon market infrastructure to finance the world's best climate solutions. These are our on-chain stats from 10.03- 16.03:

Stats explained...
Bridged: Toucan's Carbon Bridge allows anyone to bring carbon credits from legacy registries onto the Toucan Registry
Traded: This figure represents the combined $ value of all trades in the Base Carbon Tonne (BCT) pool
Redeemed: Anyone can redeem carbon credits from the BCT or Nature Carbon Tonne (NCT) pool and pay a fee to specify the specific carbon tonne that they would like
Retired: Redeemed BCT and NCT tokens can be retired and claimed as a carbon offset
---

📢 Top news
---

🌟Co-benefits of carbon credit projects
Gender equality

Carbon credit projects have the potential to deliver the social sustainability co-benefit of improved gender equality. This relates to tackling Sustainable Development Goal (SDG) 5 that seeks to reduce the inequalities faced by women by:
Improving women's participation in decision making
Reducing the strain of unpaid domestic burdens on women
Reducing levels of domestic violence and child marriage
Empowering women in these ways also accelerates progress towards other SDGs, such as by increasing family health and the amount of women engaged in education.
Impact of carbon projects
Carbon credit projects can positively impact gender equality in multiple ways:
Clean cookstove offset projects can reduce the amount of time spent collecting biomass for cooking. This creates opportunities to pursue other activities, including the generation of new income streams. Cookstove projects also mitigate the negative impacts of inhaling combustion fumes indoors, improving women's health and working conditions.

Cookstove projects however have also faced criticism for reinforcing traditional gender stereotypes, instead of challenging a woman's role within the family and wider community.

Water access projects reduce the time required by women to collect water and the biomass required to boil it to make it safe to drink. Similar to cookstove projects, this benefits women by freeing up valuable time and reduces exposure to harmful fumes.

Ecosystem restoration projects can create land management roles and educational opportunities for women. Often, as more marginalized community members than their male counterparts, female landowners more acutely feel negative climate change impacts on crop quality. Involvement in these projects can therefore help compensate for income losses.
Measuring and monitoring equality benefits
Definitively measuring changes to gender equality can be difficult as impacts pervade the lives individual women very differently.
To ensure that women are empowered as much as possible, gender equality perspectives should be streamlined throughout carbon credit project development. This includes involvement in initial financing, the removal of barriers to participation and explicit inclusion requirements in a project's design.
Several of the top registries have developed frameworks and standards to encourage greater incorporation of gender based co-benefits:
The Verra registry partnered with WOCAN in 2017 to develop the W+ standard, which links co-benefits of women's empowerment with carbon projects. There are currently five W+ registered crediting projects, including a cookstove project in Cambodia.

The W+ can be integrated by developers by applying this blueprint to project design. Greater visibility for the W+ standard is being achieved by the development of a recent whitepaper and WOCAN membership of the Integrity Council for the Voluntary Carbon Market.

The Gold Standard launched its Gender Equality Requirements in January 2018. The requirements anchor gender equality at the core of design and assess the impact of projects proactively closing gender gaps. These are additional to the Gold Standard's general gender sensitive requirements, applied to every project that they certify.
---
Successful implementation🦋
Lango Safe Water Project, Uganda

CO2balance was the first project developer to apply the Gold Standard's full Gender Equality requirements to the Lango Safe Water project in northern Uganda.

The women of Lango spend up to 2 hours a day trekking to rivers, filling buckets of water and gathering wood to boil away impurities, in order to provide water for their families. This time could instead be spent studying, earning income or pursuing other community or domestic activities.
While drilling boreholes to access underground water could alleviate this pressure, the money, skills and materials available to achieve this often remain scarce.

In 2019, the Gold Standard sought to develop a novel solution that would use carbon finance to pay for borehole development.
By building boreholes across the region, women are no longer required to boil water, meaning they are no longer required to chop down trees, which leads to less carbon dioxide going into the atmosphere, which justifies borehole development as a carbon offset project. Thus the the Lango Safe Water Project was born.
So far approximately 100,000 tonnes of CO2 emissions have been avoided a year, alongside multiple gender equality impacts:
2 hours a day saved by women on water collection
206 male and female members of each Water Resource Committee present at gender equality awareness meetings, feeding information back to their local communities
Water Resource Committee membership approaching gender parity, with 46% female to 54% male members
None of the participating women reported incidents of domestic violence related to water collection since the project started, compared to 35% prior to this
Borehole users reported an 85% reduction in incidents of bullying, intimidation and assault during water collection
85% of respondents reported a positive impact thanks to the project
More than 40,000 individuals have gained access to safe water, reducing exposure to waterborne illness
More on the Lango Safe Water Project can be found here.
---

🐳 Carbon whale
Microsoft
In 2021, Microsoft purchased 1.4 million tonnes of carbon removals, with plans to buy a further 1.5 million tonnes in 2022. Last week, they released an update exploring 'Lessons Learned' from utilising carbon removal credits.

Three key takeaways:
The market lacks strong, common definitions and standards
Microsoft and other organizations  have each had to develop and communicate their own removal project criteria, meaning that outcomes cannot be easily compared. This leads to inefficiencies and inconsistencies in removal claims.

High-durability solutions are critical, but supply is limited and many companies cannot afford them at scale
Expensive, higher durability solutions need to become more affordable to attract mass uptake. Multi-year demand commitments, direct investment and supportive policies are all critical to driving costs down.

Forestry and soil carbon removal face challenges in quality but offer short-term climate value and co-benefits beyond carbon removal
Nature-based solutions often lack uniformity, comparability and have issues of removal permanence. Corporate support for these solutions remains essential, with Microsoft developing approaches to mitigating potential risk.
Read Microsoft's full Carbon Removal report here and this excellent analysis by Robert Hoglund.
---

💼 Jobs board
---
🔎 Research in focus
Assessing sustainable development impacts in the voluntary carbon market

As explored in last week's deCarbonized, carbon projects that deliver sustainability co-benefits are receiving increasing market attention.
A recent report produced by the Oeko-Institut provides an overview of how complementary standards in the voluntary carbon market currently address co-benefits. Findings demonstrate that standards differ considerably, both in how they ensure environmental and social safeguards and assess positive and negative impacts on sustainable development.
The report identifies several areas where co-benefit requirements could be improved:
Existing tools developed to assess SDG interactions should be applied. This would help analyze co-benefits in a systematic, comparable manner across all projects.
Local stakeholder consultation should be conducted prior project go-ahead to ensure that communities can input on design.
Both positive and negative sustainability impacts of a project should be evaluated and monitored. This would provide additional assurance on how stakeholders are affected and if remedial measures are effective.
Current sustainability safeguards should be strengthened, in particular regarding the project consent of indigenous people and overarching gender policies.
Buyers of carbon credits can act to overcome these shortcomings in several ways:
Purchase credits that adhere to complementary, SDG related standards that provide more rigorous requirements. For example, seek out credits that meet Verra's Sustainable Development Verified Impact Standard (SD VISta).
Large buyers should conduct their own due diligence to ascertain positive project impacts, using online tools where appropriate.
The report suggests that future work should focus on producing guidance on the sustainable development co-benefits of typical project types. This would help carbon credit buyers make more informed decisions.
You can read the full report here.


Thank you for reading deCarbonized! 👏
Reach out to us on social and join the community ✨
🌿
What is Toucan?
Toucan is building the technology to bring the world's supply of carbon credits onto energy-efficient blockchains and turn them into tokens that anyone can use. This paves the way for a more efficient and scalable global carbon market.