Toucan NCT Burn Report Vol 1 – 3000+ tonnes of carbon for the planet 🌍
On June 17th, 2022, we permanently retired more than 3000 tonnes of carbon from the NCT pool. That's equal to the emission footprint of 300 people in Germany!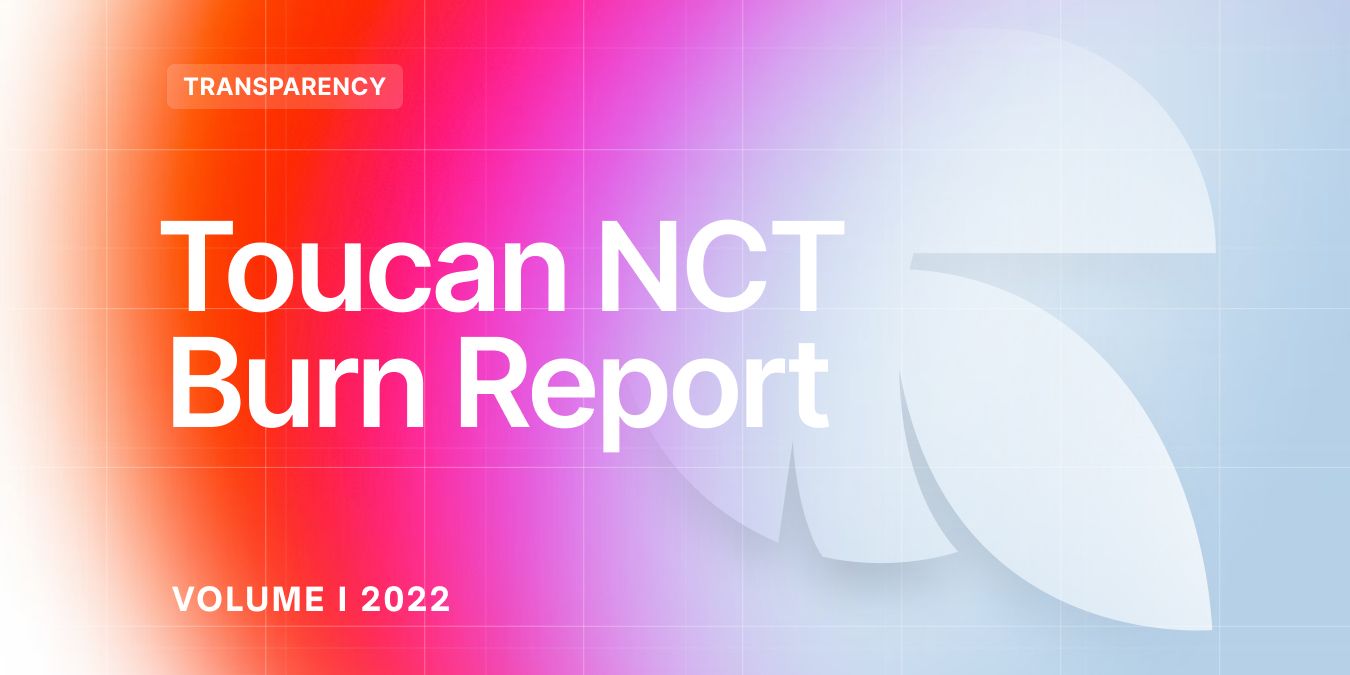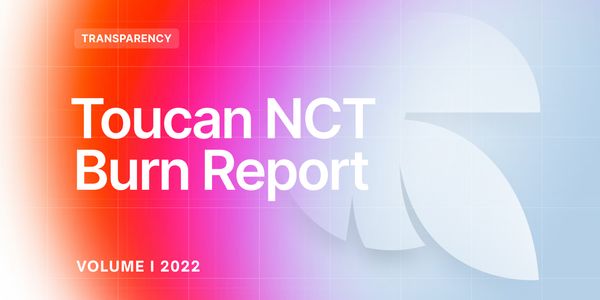 Tl;dr: On June 17th, 2022, we permanently retired more than 3000 tonnes of carbon from the NCT pool. That's equal to the emission footprint of 300 people in Germany! This carbon retirement honors our commitment to donate a portion of all collected select redemption fees to the planet.
Why carbon infrastructure?
Carbon markets are an important tool that helps drive funding to planet-positive projects on the ground. But the legacy carbon market is opaque, unregulated, fragmented and full of extractive middlemen. Toucan provides infrastructure to move our carbon markets to open blockchains, where they can rapidly scale to the dimensions needed.
Toucan's Carbon Bridge, Carbon Pools and the Retirement Module are permissionless and can be used by everyone.
"Select Redeem" fees - a tax to regenerate Earth
We want Toucan Protocol to be more than just carbon-neutral – we are aiming to be the most climate-positive project out there! Embedding climate action into the fabric of interactions with Toucan infrastructure is our first true step towards building a system that is regenerative by design.
In February 2022, we established a transparent fee system for selectively redeeming carbon reference tokens out of their respective pools. Each carbon reference token is backed by one TCO2 – a tokenized carbon credit that holds all the metadata of the original credit. We first announced fees in our NCT launch article on Feb. 8, 2022.
The collected fees
are driving significant climate impact
help sustain and improve Toucan as a project
contribute strongly to continuously improving the health of our Carbon Pools
As specified in our article about selective redemption fees on Mar 1, 2022, a 10% fee applies for selectively redeeming NCT for underlying TCO2s.
There are no fees for the 'general redeem' function, which allows anyone to redeem the default (oldest) TCO2s in a pool.
Please note: Innovation calls for constant iteration. Therefore, our fee structure might change in the future in a way that we see most suited to ensure the integrity and health of the on-chain carbon market.
A donation to our biggest silent stakeholder 🌎
Of the fees collected during the select redemption process, Toucan Protocol donates
50% of the NCT redemption fees to retire the oldest vintage TCO2s of the respective pools
This continuously increases our Carbon Pool's health. Retiring a carbon credit means that it is permanently taken out of circulation and cannot be traded or used to offset emissions anymore.
How this works: Redeeming 10 NCT into TCO2s of your choice will result in you receiving 9 of your chosen TCO2s. 0.5 NCT will be transferred to the NCT redemption fee collector wallet, 0.5 NCT will be transferred to a Toucan Protocol-owned wallet to support work on the protocol.
Celebrating our first NCT retirement 🎉
On June 17, 2022, we retired (or burned)
3,062 oldest vintage TCO2s from the NCT pool
This value makes up 100% of the portion of fees collected for retirement, for the months February, March and April, and May 2022.
Going forward, we plan to automate the fee-based retirements instead of manually retiring carbon every few months. You'll then also be able to transparently track retirements on a dashboard.
Until this feature is implemented, we will update you regularly on the retirements conducted, based on our fee burn commitment.
📌
This fee burn report covers the NCT retirement we performed. A similar report for BCT retirements will follow shortly.
Verify our climate action for yourself
You can transparently view and verify the all transactions leading up to and the retirement itself via the following links:
🌿
What is Toucan?
Toucan is building the technology to bring the world's supply of carbon credits onto energy-efficient blockchains and turn them into tokens that anyone can use. This paves the way for a more efficient and scalable global carbon market.