Say hello to ReGenerate 👋
ReGenerate is a fortnightly newsletter highlighting movements, projects, and initiatives that make our carbon markets better. Sign up to stay in the loop.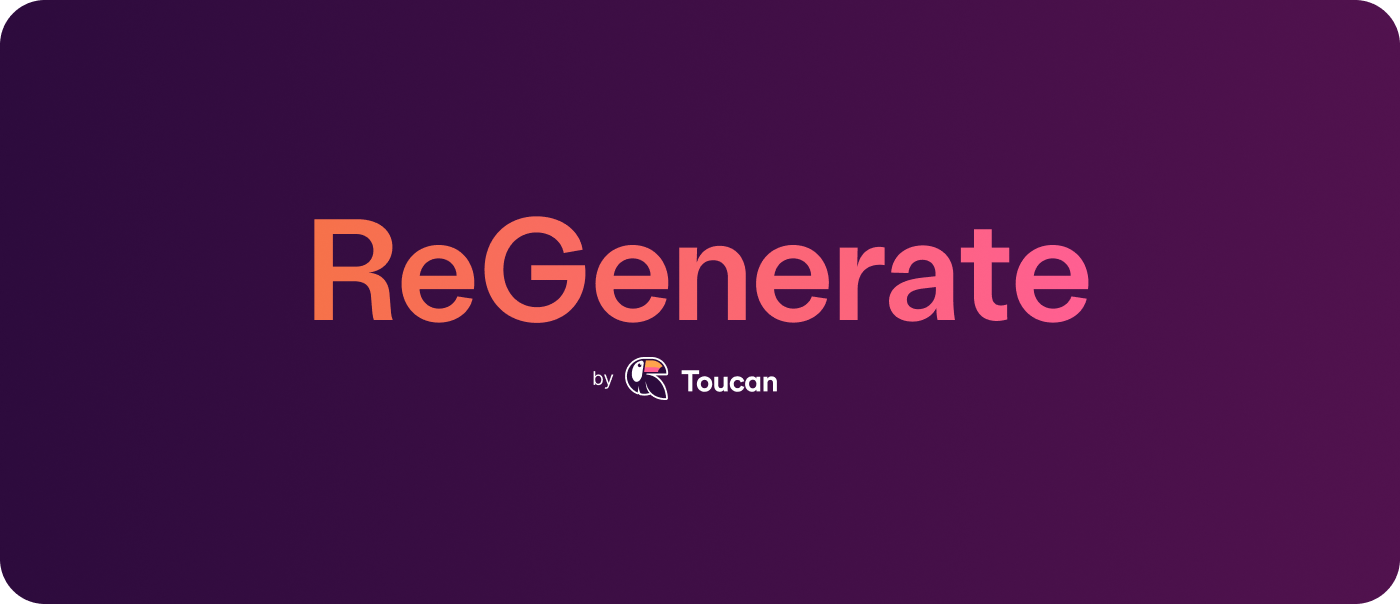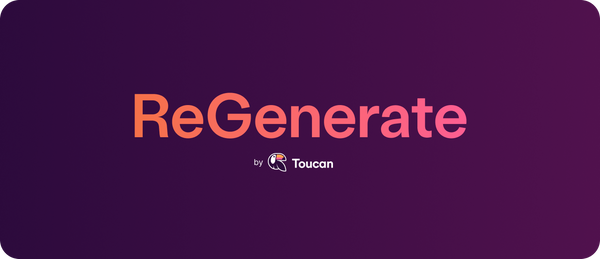 🌿
#DeCarbonized becomes #ReGenerate. Read here what this means.
ReGenerate is…
…Toucans fortnightly newsletter covering everything you need to know about the digital VCM (DVCM). Get excited to meet the people, movements, projects, and initiatives that make our carbon markets better — "regenerate" them, so to speak!
ReGenerate dissects how we can leverage the VCM to finance better climate solutions, unpacks the novel ReFi movement, and shines the spotlight on the builders and users of this new ecosystem.  
Who will enjoy reading ReGenerate?
You'll love our newsletter if you are
building with on-chain carbon or are interested to do so
using Toucans infrastructure to tokenize carbon credits
a stakeholder in the VCM who's curious about if and how blockchains can make carbon markets better and more efficient
interested in learning how carbon markets and Web3 fit together
curious about novel use cases for carbon credits
a fan of what we at Toucan are doing
ReGenerate is NOT for you if you...
...are mainly interested in learning about scientific carbon removal technologies, or if you want to get alpha on which tokens to trade and dump.
🌿
Think you'll like ReGenerate?
Sign up here
to receive it straight into your inbox!
Examples on what we'll be featuring in ReGenerate:
Long-form explainer pieces, like the ones we did on carbon credit tokenization and KYC in Web3 carbon markets
Carbon credit use cases and case studies in Web3
Top carbon news everyone is talking about
Our thoughts on events, outlooks, and market movements
Interviews with carbon market stakeholders (founders, regulators, market participants, and project developers)
Opportunities and grants programs for Web3 builders, i.e. via our Builder Hub
Articles we can recommend
Jobs in Carbon
Upcoming ReFi & carbon events that you should mark on your calendar
What happened to DeCarbonized?
Our original newsletter, DeCarbonized, provided great deep dives and explanations into carbon removal technologies, carbon credit methodologies and more. We loved the positive feedback we received.
But we also realized that these scientific topics aren't always relevant to our audience, as we're essentially building infrastructure to regenerate our carbon markets (and helping others do so as well). This is why we're kicking year 2 of the ReFi movement off with ReGenerate: a new, dynamic newsletter covering topics that are core to what we at Toucan are doing.
What do you think 🤔?
We're very curious to hear your feedback on the rebranding to ReGenerate. Send us your thoughts via email, Twitter or LinkedIn!
🌿
What is Toucan?
Toucan is building the technology to bring the world's supply of carbon credits onto energy-efficient blockchains and turn them into tokens that anyone can use. This paves the way for a more efficient and scalable global carbon market.