Toucan Burn Report Vol 2 – supporting the cleanup of the BCT pool 🌍
Economics should be regenerative by design. A living example for this is our fee structure: 80% of specific fees are used to retire the lowest-quality carbon credits in Toucan carbon pools.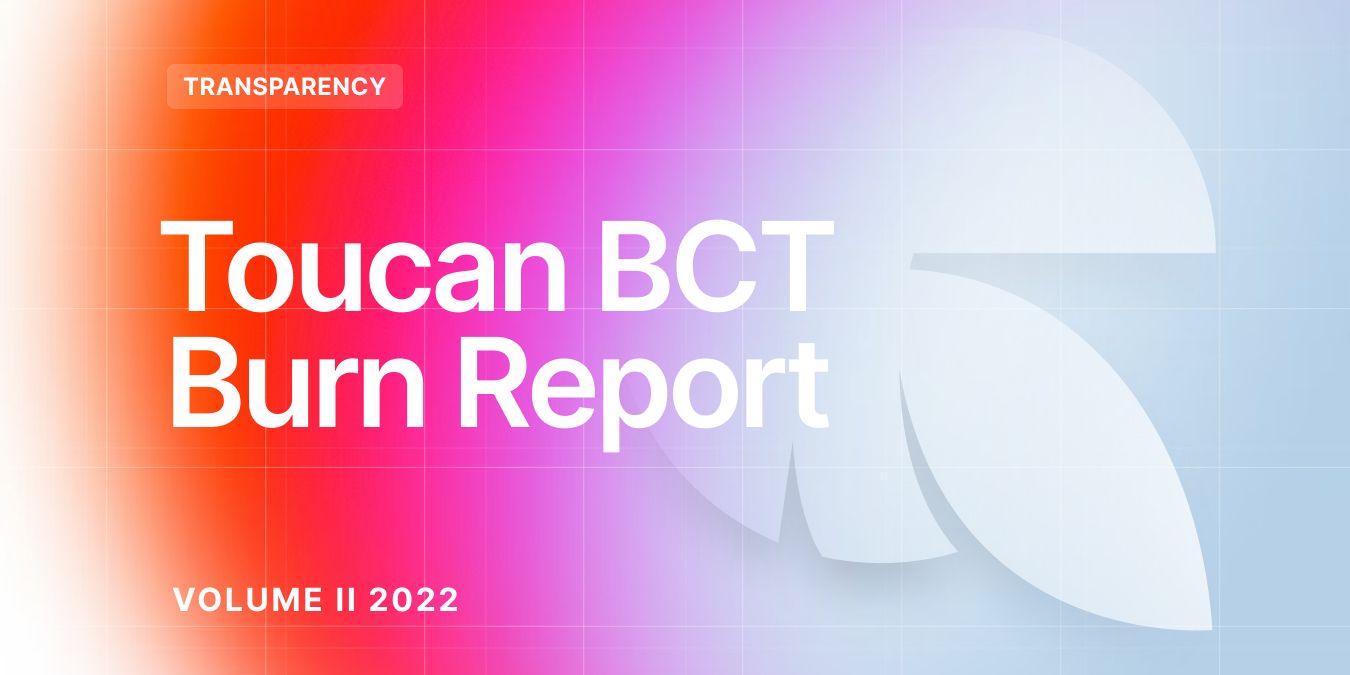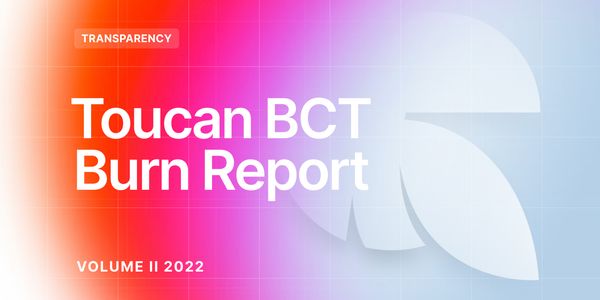 tl;dr: We believe economics should be regenerative by design. A living example of regenerative economics is our fee structure: 80 % of specific fees are used to retire the lowest-quality carbon credits in the BCT pool. The remaining portion of our collected fees goes towards sustaining Toucan.
"Select Redemption" fees - a tax going towards climate action
We are aiming to embed climate action into the fabric of our protocol, and a key step towards reaching this ambitious goal is our fee structure.
Starting from February 2022, we've established a transparent fee system for selectively redeeming carbon reference tokens out of their respective pools. Each carbon reference token is backed by one TCO2 – a tokenized carbon credit that holds all the metadata of the original credit. We first announced fees in our NCT launch article on Feb. 8, 2022.
The collected fees
are going towards supporting climate action
help sustain and improve Toucan as a project
improve the health of our Carbon Pools on an ongoing basis.
As described in our article about selective redemption fees, a 25% fee applies for selectively redeeming BCT tokens for underlying TCO2s.
There are no fees for the 'general redeem' function, which allows anyone to redeem the default (oldest) TCO2s in a pool.
A donation to our biggest silent stakeholder 🌎
On June 17, 2022, we retired the 3,062 oldest vintage TCO2s from the NCT pool, which equals 100% of the fees collected for select redemptions during the months February, March, April, and May 2022.
Retiring a carbon credit means that it is permanently taken out of circulation and cannot be traded or used to offset emissions anymore.
🌿
Now, it is time to use the fees that accrued in the BCT fee collector wallet. We selected to donate these funds to an important cause: The removal of damaging HFC-23 carbon credits that have been bridged and deposited into the BCT pool.
On September 15, 2022, we removed and burned a total of 20,873 HFC-23 credits out of the BCT pool — meaning they have been taken out of circulation for good and can't be counted towards any climate action. We have committed to this as a result of this proposal on our governance forum.
You can transparently view and verify all transactions leading up to and the retirement itself via the following links:
Going forward, there will not be any more HFC-23 credits on Toucan, and accrued fees will go towards burning the oldest credits in the pool. We will update you regularly on the retirements conducted, based on our fee burn commitment.
🌿
What is Toucan?
Toucan is building the technology to bring the world's supply of carbon credits onto energy-efficient blockchains and turn them into tokens that anyone can use. This paves the way for a more efficient and scalable global carbon market.